Loading...


Environment



Monday, February 25, 2013




Cleveland's fish kill is not pollution related


Weather fluctuations killed fish on the Cuyahoga River

by WKSU's KEVIN NIEDERMIER


Reporter
Kevin Niedermier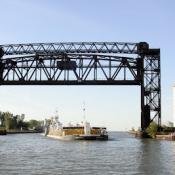 The Cleveland Flats area was once a toxic graveyard for fish, but wildlife officials believe a recent fish kill was due to abrupt changes in the weather, not a spill or discharge.
Download (WKSU Only)
In The Region:
The Ohio Department of Natural Resources has confirmed that a fish kill on the Cuyahoga River last weekend resulted from natural causes.Thousands of dead fish were found Sunday floating in the river in the Flats area near downtown Cleveland. ODNR official Jessie Janosik did the investigation. He says the species of fish involved led to the conclusion.
"It was all gizzard shad. When the temperature fluctuates a lot, this fish can't handle it and they die. What happened here is that the temperature has changed a lot lately and that caused the kill."
Janosik says there was a weather-related gizzard shad kill on the Rocky River west of Cleveland earlier this month.

There is heightened concern about fish kills since a federal grand jury indicted the owners of a Northeast Ohio business in October for allegedly dumping cyanide into the Rocky River last spring. An estimated 30,000 fish and other wildlife died.
---
---
---
Stories with Recent Comments