Loading...


Economy and Business



Thursday, February 28, 2013




Federal budget cuts will impact Cuyahoga Valley National Park




Spokeswoman says sequester will affect employees, then visitors




by WKSU's AMY COOKNICK



Reporter
Amy Cooknick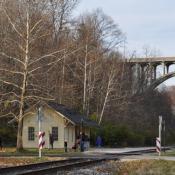 Rt. 82 Brecksville depot along the Cuyahoga Valley Scenic Railroad riding trail.
Download (WKSU Only)
In The Region:
As the nation awaits a series of automatic federal budget cuts beginning Friday, the Cuyahoga Valley National Park is figuring out how to deal with those cuts. Spokeswoman Mary Pat Doorley says the park plans to absorb more than half the cuts by limiting expenses such as travel by employees. Also, the park will stop filling permanent positions. If the new budget requires further cuts, Doorley says the next step will be to furlough seasonal employees and limit their hours or employment periods.
Also on the list: "The park has looked at delaying nonessential contracts. ... We have a lot of visitor feedback that we have poor quality signs, frequency of getting lost, wo we have a sign plan that will not be implemented due to a sequester."

Doorley says cuts that directly affect visitors would be a last resort. But, if necessary, the park will shorten visitor center hours, limit the use of recreational areas and reduce public programs. Visitors may see less frequent cleaning of restrooms and mowing of park lawns.
Changes to the park will be made on a rolling schedule once the amounts of the budget cuts are known.
---
---
---
Stories with Recent Comments