Loading...


Education



Wednesday, February 27, 2013




Ohio's teacher supply continues to outstrip demand




But StateImpact Ohio finds an increasing number of teaching students are coming up with a Plan B.


by WKSU's M.L. SCHULTZE


and

MOLLY BLOOM



Web Editor
M.L. Schultze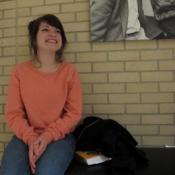 Melissa Beaune is studying to be an elementary school teacher
Courtesy of IDA LIESZKOVSZKY
Download (WKSU Only)
In The Region:
Ohio continues to turn out a thousand more teachers each year than it has openings for. And despite changes in everything from evaluations to retirement, the interest in teaching doesn't appear to be slowing. WKSU's M.L. Schultze talked with our StateImpact Ohio education reporter Molly Bloom about supply and demand.
Each year, Ohio graduates about 6,000 people with degrees in education. Each year – and predicted for the next 10 years -- it has room for about 5,000 of them. So, StateImpact's Molly Bloom looked more closely at why, given the lack of job prospects, so many still choose to become teachers.


Other options:

MP3 Download

(3:43)

That's Molly Bloom of StateImpact Ohio, an education reporting collaborative from NPR and member stations WKSU, WCPN and WOSU. Bloom says teaching candidates today are not oblivious to the market and many have established a "Plan B," such as the special education major who is minoring in speech and language pathology. If a teaching job doesn't open, she plans to finish the speech coursework and still find a way to work with children.
---
---
---
Stories with Recent Comments