The students filed into the town square to supportive applause from community members who had gathered. Many cried and were comforted by family and friends. About a thousand students and well-wishers, most dressed in school colors of red and black, crowded around the gazebo.
What seemed impossible a year ago is much easier today
Senior Jessie Mysyk was one of the student leaders who spoke. She talked about the year-long journey since the shootings.
"A first it seemed that recovery would be a long and painful road; it was hard to even imagine going back into a building where such a tragedy occurred. And after we did, it was hard to imagine our lives would ever be normal again. But during the past 12 months, Chardon High School has received the most tremendous love and support from a number of people and groups. This kindness has been the main building block in a year of healing."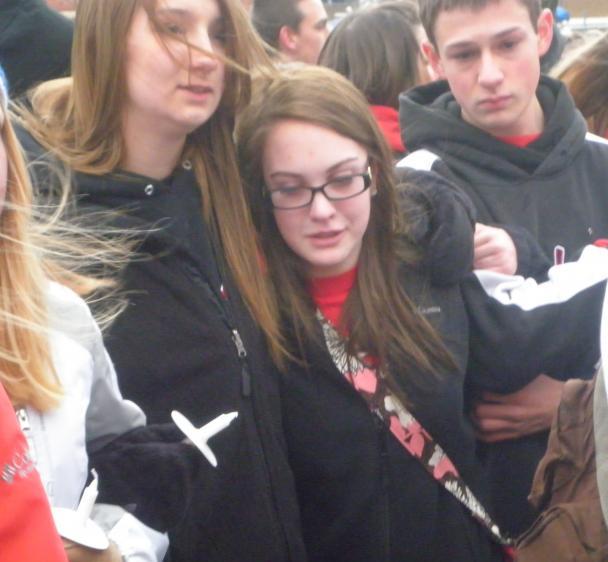 Mysyk thanked teachers and school administrators, first responders, fellow students and the community.
Community members express concern for victims and for T.J. Lane
Geauga County resident Pam Stone came to the square before the event began to show support."I want them to know they'll always be remembered, and their families. Chardon is a great place to live. And I pray everyday for the kids who were hurt. I pray for T.J. Lane, too. He must have been very troubled, and still is."
On Tuesday, Lane pleaded guilty to the killings, eliminating the need for a trial. Now, the families of the slain students have filed a wrongful death lawsuit against him.

Students experience a range of emotions
Before the town square gathering, Chardon students started their day giving back to the community that helped them recover. They crafted 300 blankets to comfort others touched by tragedy, and they made three wreaths from red ribbons that were presented to the families of the slain students.

Principal Andy Fetchik described the mood at school.
"I think there are mixed emotions. Many students were excited for the opportunity to perform some service and give back, but they've also sad. There will be three empty chairs at graduation this year, and that will be in our hearts."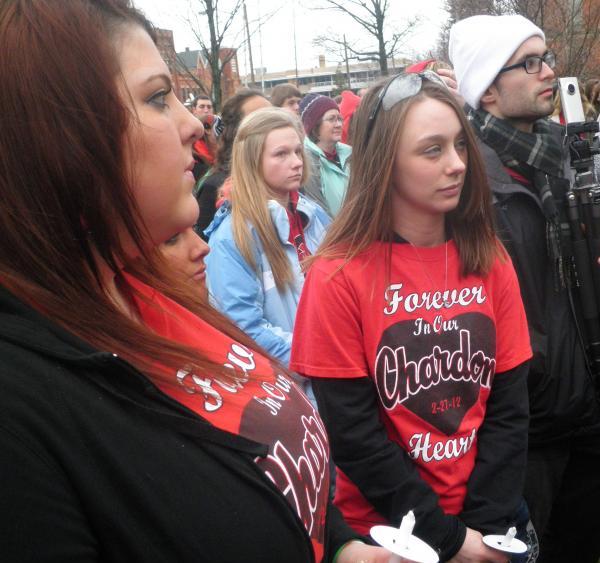 On the town square, Chardon Superintendent Joe Bergant told the crowd that better days are ahead.

"The loss of the three young men, Danny, Demetrious and Russell will impact us all forever. But in their remembrance, we continue to establish that we are a strong community with one heartbeat. And with the continued relationships established with all of our partners, we will heal."

Bergant, who's retiring after this school year, says how the school marks Feb.27th in the future will be up to the next superintendent. But he expects the day to always include the community service element.