Roberto Iriarte graduated from Hudson High in the late 1980s. He returned to the school's music department after graduating from Kent State and Temple universities, and now he leads the school orchestra. The conductor was excitedly preparing this week for a performance at New York's Lincoln Center.

Hudson was invited to the National Orchestra Cup – March Madness for high school orchestras -- in 2010, and had to turn it down. Iriarte and company were already booked to play in Italy.
This year, he accepted.

Fortune and air fare

"We were originally going to go to Austria this summer (but) with international travel costs skyrocketing, we backed out. The kids and their families just couldn't afford it. I had this invitation come across my desk the day we made that decision not to go to Austria. So they were very excited at the opportunity, and it was less than half the cost."

The students will hear the Metropolitan Opera Company and the Vienna Philharmonic before the big show.

"We're playing the first movement of Serenade for Strings by Tchaikovsky, the slow movement (Adagietto) from Mahler's Fifth Symphony and Copland's 'Hoe-Down' from his ballet Rodeo. It's a varied program (with) lots of technical demands in the Copland and the Tchaikovsky, (and) with Mahler being extremely musical [due to] the whole scope of the psychology of the music in that piece. And the demands of it being so long with many long notes."

Drilling down into the music
The orchestra has been working on these pieces since last October, and performed them during a school concert last week. Iriarte spent his last day dialing in more precision with the ensemble, something senior cellist Erin Maier can appreciate.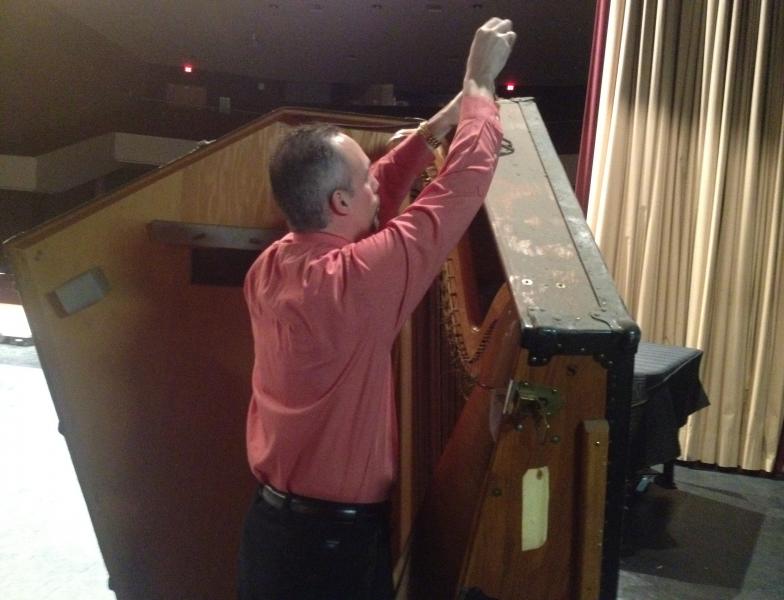 "Definitely near the end of our Tchaikovsky piece, we have to pay attention to where the different notes are because we have some issues with staying right together. But I think we can do it."

Maier gets flustered when asked if she'll be nervous on Saturday night. "It's going to be a heart-in-throat moment. But I'll make sure to just play."

And the conductor knows students will need a "Hoosiers"-like moment to adjust to playing in hallowed Alice Tully Hall.

"We have to take a moment to take it in and look up when [we're] sitting on stage before we play. When we're tuning and warming up a little bit, get a sense of the feel of the hall and the ambience of the hall."

While only a couple of the orchestra's seniors intend to study music in college, Iriarte says about half plan to continue playing after graduation. And although the orchestra is the only one from Ohio playing on Saturday night, it's not the only music ensemble from Hudson headed to the Big Apple: The school choir will be performing at Carnegie Hall in April.