The Mayflower sits right across Main Street from the Canal Park baseball stadium downtown amidst clubs, restaurants and new student housing. Any developer could see it's a hot location.
Within walking distance to Akron's main library, two hospitals, the bus station and parks, residents like it too. They crowded into the Mayflower's community hall yesterday to tell city officials that.
But the mayor's office announced this week the building needs renovation of major systems and the people living in its 233 rooms will have to leave. The city plans to ask the federal government for a loan to buy and renovate the building. The deputy director of the Akron Planning Department, Sam DeShazior, told residents the city will then offer it to a developer.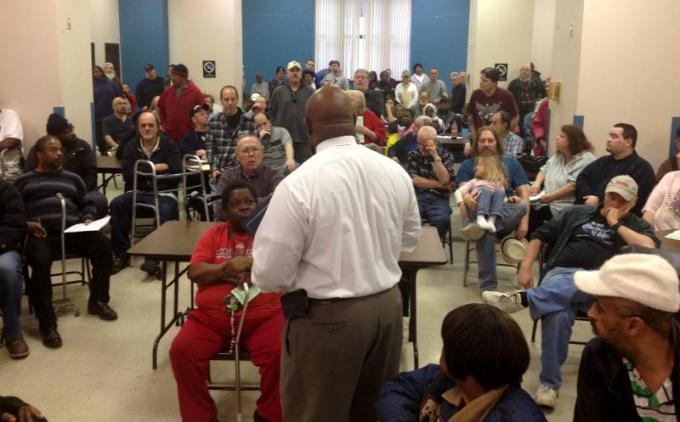 Some residents asked when could they move back in and others wanted first dibs on a room when it reopens. But it's unlikely a renovated Mayflower will be used for low income subsidized housing again. Rose Juriga of the Tri-County Independent Living Center in Akron remembers Canal Park Towers, a low-income apartment building across the street that was simply razed seven years ago. She wonders how much taxpayer money will be spent on the Mayflower. She also feels it's part of an effort to move low income people out of downtown.
The land under the Mayflower may be end up being vacant if the building is not renovated. That's the warning from the city's Sam DeShazior.
The Mayflower was once a luxury hotel where New York businessman Bill Wilson stayed in 1935. Looking for help for his addiction, he made a famous phone call from its lobby that eventually led him to Doctor Bob Smith. The two went on to form Alcoholics Anonymous.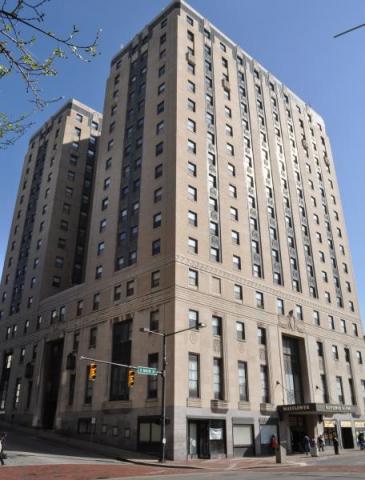 Now residents are looking for help. Marilyn Bobo told her neighbors they need to stand together and let City Council know what they want. Mrs Bobo is organizing another meeting with her fellow Mayflower residents next week with representatives from the U.S. Department of Housing and Urban Development.