A decade after Cleveland architect John Eisenmann designed and built the Cleveland Arcade, he was asked to build the Ohio building for the Pan-American Exposition of 1901 in Buffalo. "And when he recognized there was no flag to fly over the Ohio building, he went about designing a flag."
That's Tom Rieder, reference archivist at the Ohio Historical society. He notes that later that year, in September, President William McKinley from Canton was assassinated at the Exposition.
But when it began Ohio was the only state in the nation still without an official flag. Eisenmann came up with the distinctive swallow-tail pennant shape because he wanted something unique. Rieder says the red and white stripes symbolized Ohio's roads and canals.
"We have the 13 stars around the large red and white circle – that would be the 13 original colonies. The 4 stars outside the circle would be the 4 states added to the union from 13 original colonies. The 17th star right at the point of the triangle would be Ohio."

The first Ohio flag. Details at Ohio Memory.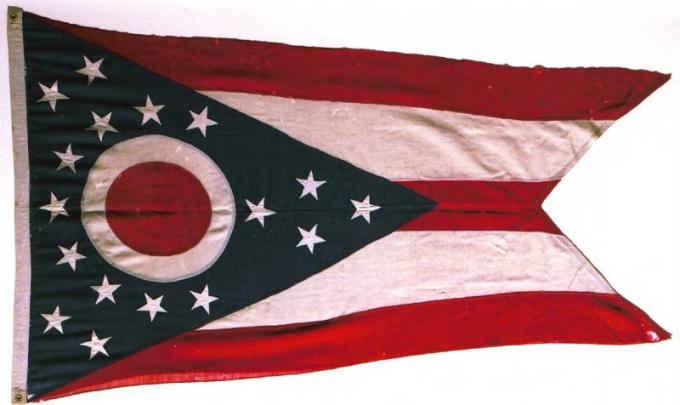 The red circle was the O in Ohio as well as a reference to the buckeye. Rieder says the legislature loved the banner and made it Ohio's official flag May 9th 1902. Cuba officially adopted its similar looking flag two weeks later. But both the Cuban and Puerto Rican flags have origins that go back to the mid-1800's.