Loading...


Education



Monday, March 4, 2013




Strongsville teachers on strike




Almost 400 teachers walk the picket line in "Excellent with Distinction" district


by WKSU's KABIR BHATIA


Reporter
Kabir Bhatia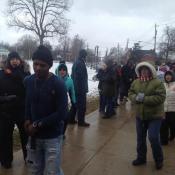 People applying to replace striking teachers in Strongsville were met with cries of "go home" and "you're not qualified"
Courtesy of K. Bhatia
Download (WKSU Only)
In The Region:
About 7,000 students in Strongsville are without their regular teachers today, as contract talks between the school board and educators broke down over the weekend. It's one of less than a dozen teachers' strikes since Ohio approved collective bargaining for public employees in 1984. And as WKSU's Kabir Bhatia reports, it's about more than salaries.
Strongsville teachers got some picketing practice in on Sunday outside of City Hall. Inside, school officials interviewed about 130 potential replacement teachers -- one-third the number who are on strike.

The teachers' union and the school board have been negotiating a new contract since June. And it's been a tense 10 days since teachers served notice they would strike.

Since then, the board has accused the teachers of unfair labor practices in a complaint filed with the State Employment Relations Board.

Teachers picketed board members' homes and say they won't recognize grades given during the strike by substitutes. And the board says students had better show up every day and try their best.

Extracurriculars and AP classes are cut for now and the school board locked teachers out of their online accounts and grade books on Friday.

Strongsville Education Association President Tracy Linscott says the issues have been brewing since the last round of contract talks in 2011.

"The last time we gave some major concessions, and the board reneged on a lot of their proposals. They were going to put a levy up; they cancelled the levy. They said they didn't need it. Jobs were going to go one way or another. They didn't follow through on their promises."

Board looks at budget
The school board has cited a looming $6 million budget hole as one reason for its – quote – "last, best offer" over the weekend. That proposal includes a freeze on pay increases based on seniority and higher education. The teachers had agreed to a two-year salary freeze in 2011, and are now asking for their salaries to be restored. The board wants an additional three-year freeze.

The two side are reportedly close on medical benefits, but not on dental.

The teachers also want a 1 percent pay increase in addition to the re-configuring of retirement pension calculations offered by the board.

The replacements
None of the matters to newly minted teacher Phil Gasper. He's one of the replacement applicants.

"It's very rough. My friend actually just told me about this opening. I didn't actually realize it was going to be like this. I'm getting attacked, verbally at least. Not qualified? If you have your license, I think that you're qualified. The state is issuing licenses. What more qualified can you really be?"

Gasper will have a leg up on his fellow replacements, as he's a Strongsville grad. But parents like April Boros still aren't sending their kids to school today.

"I have an 11-year-old that has an IEP (individual education plan), and he has a medical condition. These people coming in here are not going to know how to deal with this medical condition. Or his IEP. So he will be staying home."

The choice isn't so clear for sophomore Kathleen Moser. She says her little sister will probably stay home, her parents will probably picket with the teachers, and she'll probably only come in for her first four classes. After school, she says, "I'm probably going to study for OGTs [Ohio Graduation Tests] because they're next week. So I'll spend my time doing that and it will be convenient not to have homework."

Senate Bill 5
On the flip side is lifelong Strongsville resident Jay Phillips. With a child in the system, he came out with a megaphone to chastise the teachers until he was hoarse, saying the repeal of Senate Bill 5 in 2011 led to the strike.

"I think it would have prevented stuff like this. I think you're going to see stuff like this in a lot of the surrounding school districts."

Ohio's Senate Bill 5 would have curtailed the rights of teachers and other public employees to strike. It never took effect, and voters trounced it in November, 2011.

Other Strongsville parents are like Beth Reik, who says her two teenage girls don't know what to make of the situation.

"I'm not for one side or the other but I think the teachers did a really poor job of dragging the students into this. I think it's going to be chaos so we'll see. We don't really know what to expect."

Chaos outside
The chaos outside of City Hall on Sunday eventually died down after Superintendent John Krupinski finished the interviews and was escorted in a van past the crowd of roughly 200 by police. Officers will also be on hand at school buildings throughout the strike, but union President Linscott says teachers have already gone through a lot of safety training.

"We have plans in place that we know what to do when we have a lockdown drill. And it's been pretty extensive training. The police department has been involved so that we knew how to react. I'm wondering if, today, they're having those same employees – their new employees – trained on active shooter and what to do to protect the kids in case there's chaos or lockdown."

The school system is reassuring parents that replacement teachers are subject to the same background checks as substitutes, and that school transportation will be unaffected.
---
---
---
Stories with Recent Comments