The teachers say they wanted to keep talking. The administration says it's given all it can.
And the only clear communicating between the two sides going on now is the faint sound of teachers chanting "Our kids are worth it" that bleeds through the window of Superintendent John Krupinski's office.
This is Krupinski's first year as superintendent. But he's been with the suburban district southwest of Cleveland for 15 years. He spent about five years in HR, hiring some of the nearly 400 teachers, guidance counselors and other professional staff who began a strike this week that no one says they want.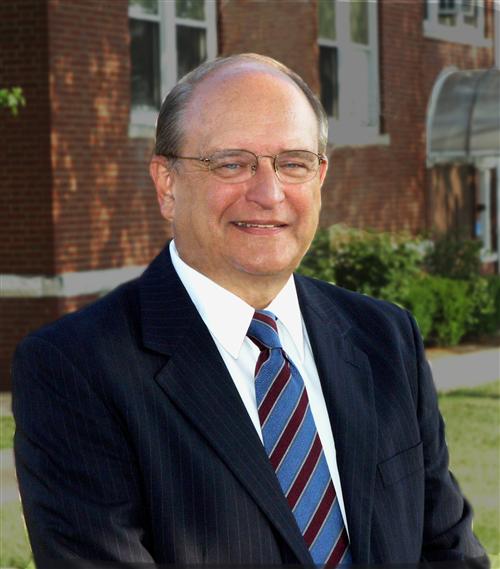 Excellent-plus schools
"Strongsville is a district of excellence with distinction. We reached that goal this year. It's been a tremendous team effort to get to that point. Students, teachers, administrators, parents and the community support has been tremendous throughout this period of time where we've really improved our achievement for our students."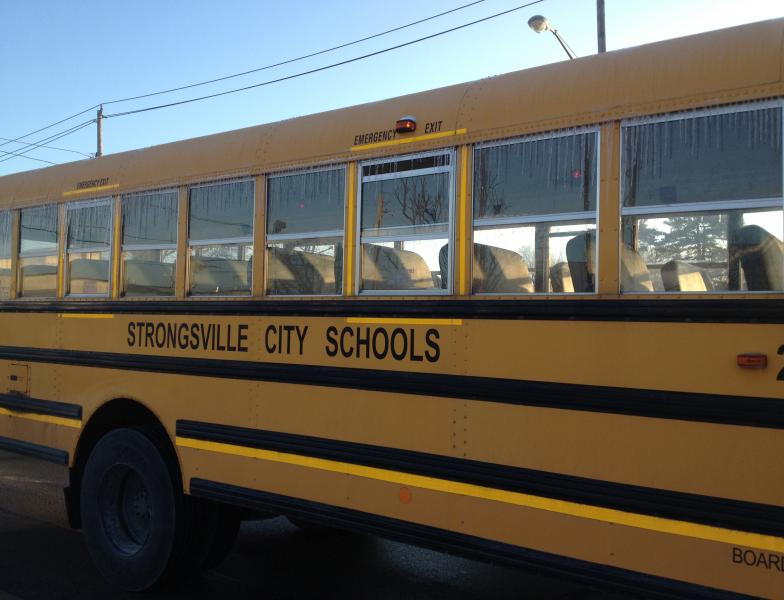 And yet, this week began with guards from Huffmaster Strike Services challenging anyone trying to enter the administration building next to Center Middle School. School buses pull up, largely empty. And fewer than 150 substitute teachers are trying to fill in while regular teachers march on the sidewalk, some carrying signs that underscore, "Excellent because of us."
Teachers: Board needs to stay at the table
"We don't want to be here. We want to be inside the classroom with our children. And it's frustrating as a teacher to have to stand out here when we should be in there teaching our kids."
That's Christine Canning, a spokeswoman for the Strongsville Education Association. Teacher strikes are a rarity in Ohio since the state passed a law legalizing them three decades ago. And Canning insists this one didn't need to happen. After nine months of negotiations, she says the teachers were willing to keep going.
"The board has refused to be at the negotiating table with us. They presented a last-best offer when we were willing to negotiate and they clearly had other ideas."
Shelly Jackson is with the Ohio Education Association, the umbrella for most of the teachers unions in the state. She joined the Strongsville picket line in support.
And she insists a federal mediator is standing by, ready to get talks started again.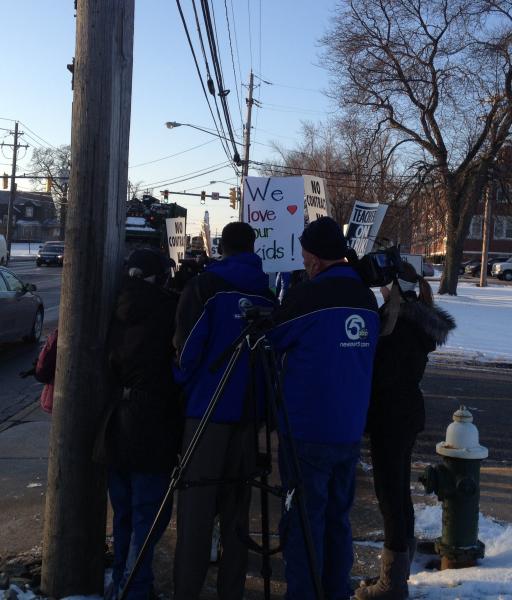 "We're waiting, waiting for the board to make that phone call, we're waiting with the federal mediator. We could go right now."
But Superintendent Krupinski insists, "I haven't been given that olive branch. Would I like to settle the strike, absolutely. Would l like to return to the bargaining table, absolutely. But someone's gotta tell me that."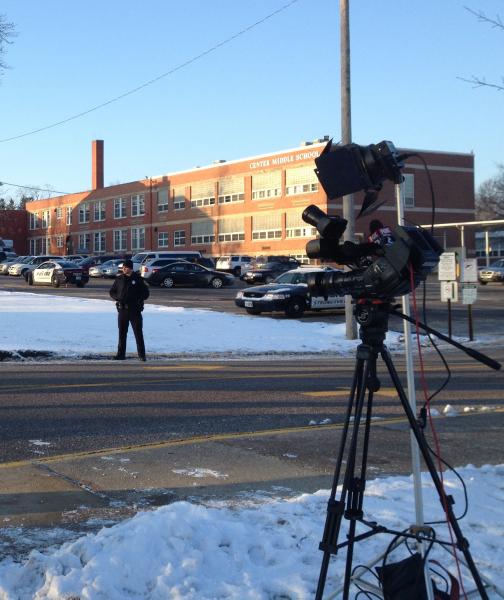 Krupinski also says any return to negotiations would have to recognize the realities of school funding in Ohio.
"We've lost taxes; obviously people are hurting out there. … We've had unfunded mandates. Our revenues are decreasing. We must remain in the black and therefore with have a very fair proposal on the table that has some concessions, especially in healthcare, because health care costs are staggering."

In not health care, than what?
But health-care costs do not appear to be the biggest gap between the union and administration at Strongsville.
Rather, it's a proposed change to the way teacher pay is calculated in most school districts in Ohio.
Right now, many teachers get automatic pay raises based on each year of classroom experience, and more money when they get higher-level college degrees.
"It's usually between 2 to 3 percent of an increase from the first year to the second year, that's a step. There are also columns, columns are B.A., bachelor's; B.A. plus 15, B.A. plus 30, masters and so on. What we're saying, is we need to freeze those steps in order to balance our budget."
Krupinski estimates steps cost the district $400,000 a year. And he says the district wants to do away with them for terms of this contract.
He says it's purely a financial decision.
But supplanting seniority with other ways of determining teacher pay has been a big part of the education debate in Ohio at least since 2011. That's when Ohio tried to curtail collective bargaining rights – including strikes – for public employees with a bill that became known by the shorthand "SB 5."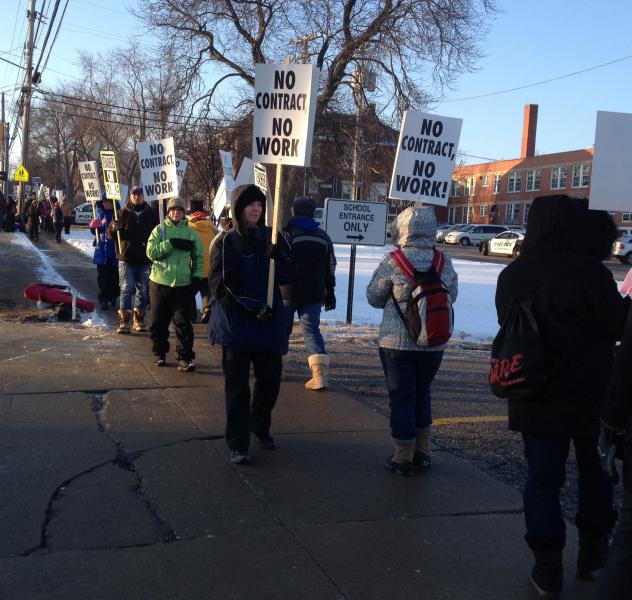 The Ohio Education Association's Shelly Jackson says voters sided with the teachers when they voted down SB 5.
"Ohio voters spoke to allow a strike, work stoppage, to be one option for union members. And even though it is one option, it's not the only option, and the association here has tried."
Adds her fellow picketer, Christine Canning:
"This is the first strike I've ever been in, so I'm a rookie at this."
So are many teachers in Strongville and in Ohio. The state passed a law allowing public employees to strike in the early 1980s, partly because a series of illegal strikes were sweeping through Ohio. The new law set up bargaining rules and mediators, and in the last 30 years, fewer than a dozen districts have been hit with strikes.