Loading...


Education



Friday, March 8, 2013




Strongsville school strike wraps first week




Students rally on Thursday night


by WKSU's KABIR BHATIA


Reporter
Kabir Bhatia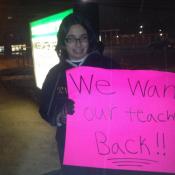 Giovanna Zona wants her 10th- and 8th-grade siblings to have the same education she received before graduating from Strongsville. She has even offered to bring her little brother to the Tri-C library so he won't fall behind in math
Courtesy of K. Bhatia
Download (WKSU Only)
In The Region:
Strongsville students held a rally last night in support of the nearly 400 teachers who have been on strike since Sunday. And as WKSU's Kabir Bhatia reports, it was a chaotic school week.
The rally outside of the Board of Education was supposed to coincide with a school board meeting. That meeting was cancelled. Instead, about 300 parents and students chanted and lit candles as wet snow fell. Organizer Jordan Kelley, a senior, says the situation during the past week has been tense at Strongsville High School.

"The student body has been very divided over this issue. There's people on each side who feel very strongly, whether it be pro-teacher or pro-board, or just neutral. I wanted to kind of bring the student body together. No matter what side we're on, I think we all can agree this needs to be rectified."

The district has hired more than a third of the replacement teachers needed in a district of 6,300 students. Extracurriculars have been cancelled along with AP classes. Senior Alexander Reno isn't sure how that will affect him next year in engineering school.

"We've just been handed papers and expected to learn on our own. There's no preparation whatsoever. I don't feel confident as of now with what I've been 'taught' in the last couple days. And it's not preparing me for my AP tests in May."

Reno's classmate Samantha Hartsough just wants things to get back to normal.

"No matter whose fault it is, the board or the teachers, everyone is suffering. But the ones who are suffering the most are the students."

On the other side of the education spectrum, first-grader Jennifer Kenner did not go to school until Thursday.

"It was pretty sad because I want my old teachers back."

The school board insists it's facing a $6 million shortfall and needs concessions and pay freezes. The teachers say they've made too many concessions in their last two contracts. A meeting with mediators on Wednesday night produced no results, and there's no date set for the two sides to head back to the bargaining table.
---
---
---
Stories with Recent Comments