Loading...


Social Issues



Monday, March 11, 2013




The two St. Peter's churches are forging ahead




Catholic congregation which split sees one group growing, and the other forging ahead despite excommunication of its leader


by WKSU's KABIR BHATIA


Reporter
Kabir Bhatia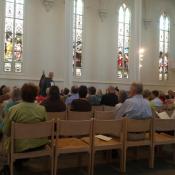 The Rev. Robert Kropac welcomes parishioners back to St. Peter last fall, which re-opened after being closed in April 2010 along with about 50 other churches in the Cleveland Catholic diocese.
Courtesy of K. Bhatia
Download (WKSU Only)
In The Region:
The tale of two St. Peter's took another turn this week, as the two Catholic churches in Cleveland saw one leader excommunicated, another recognized for his efforts, and both groups forging ahead. WKSU's Kabir Bhatia reports.
Bishop Richard Lennon excommunicated Father Robert Marrone last week, saying he had been disobedient to his superiors and caused a schism in the church.

Marrone has been leading the Community of St. Peters – a congregation of 300-plus -- in office space near the Cleveland Clinic for more than two years. And his services continued yesterday morning, though neither the priest nor his parishioners were available to speak about it.

For nearly 30 years, Marrone had led St. Peter's downtown, until Lennon closed it and about 50 other churches. The priest and parishioners moved to the new space in August of 2010. The bishop warned them that Marrone was facing excommunication. But spokesman Frank Titus said last fall the breakaway parish would continue – and continue concentrating on social justice.

"I don't think any of us is looking through the rear-view mirror anymore. Father Marrone has made the point a number of times that it's really not about a building. A church is the body of people involved."

That was even after the Vatican ordered the Cleveland Diocese to re-open 11 of the closed churches, including St. Peter's near Cleveland State. Father Robert Kropac took over the reborn parish, and he spent this past Sunday looking to the future.

"I think we're trying to do what we set out to do. Build a relationship with the Cosgrove center next door, reaching out to people that are in need here in the area, working with the campus ministry at Cleveland State. They did a retreat here all last week. I think we're just trying to do what we do well. We try to worship well and reach out."

Both St. Peter's groups have made social programs and community outreach a big part of their ministries. Kropac hopes to increase the membership at the old St. Peter's, which is holding steady at 75. He also serves St. Wendelin on the west side, which has about 400 parishioners. And Bishop Lennon told the Plain Dealer he's pleased with progress at the 11 re-opened churches.
---
---
---
Stories with Recent Comments