Richard Cordray was sharing the witness table at the Senate Banking Committee with Mary Jo White, President Obama's nominee to head the SEC. It was her first appearance, and she got most of the questions.
Cordray's been here before -- a year  and a half ago,  when Obama first nominated him to head the Consumer Financial Protection Bureau.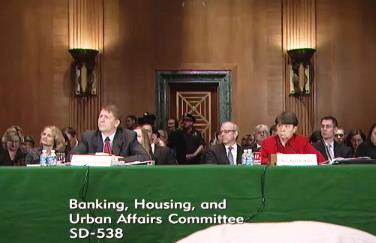 Praise with a significant 'but' for the nominee
Now, as then, senators praised his intellect, cooperation and thoughtful approach to government.  Republican Sen. Bob Corker of Tennessee even extended the compliments to Cordray's 14-year-old twins.
"Mr. Cordray, once again your family has been a great asset to you today. Your son and daughter are acting perfectly in the back and even sometimes act like the questioners are asking intelligent questions. So I do want to say if you can get people dealing with consumers in the financial world to act like they are, you'll do a very good thing for our country."
But Corker and the other Republicans continue to raise  questions about the whole structure of the new agency, which they want to be run by a board and answerable to Congress for its budget, not the Federal Reserve.  That's why Senate Republicans blocked his appointment last year and are threatening to do it again.
Reassuring taxpayers

Republicans are raising some new questions. Sen. Mike Johanns of Nebraska wanted to know why more than half the consumer bureau's budget last year went to contracted services. Cordray said those were start-up costs, and the contracts were largely with the Treasury Department.
Which led to this exchange.
"I think we have a right, as U.S. senators to probe into this kind of information because it's important that we be able to tell our taxpayers, our constituents, 'Don't worry this money is being spent wisely and thoughtfully and carefully and we dug into it and we can say that."
"We are quite welcoming of that, and we understand.  As I said in the beginning. I served in the Legislature in Ohio. I appreciate and understand the importance of congressional oversight . I think it is a meaningful check on our agency. … We try to be as transparent as we can and as we've grown as an agency, we are able to do that more. We are completely committed to doing that."
Regulating the regulators
During the two-hour hearing, Cordray — a one-time Jeopardy champion -- responded with specific answers to specific questions or with promises to find the answers. But  Democrat Jeff Merkley of Oregon  stymied him. Merkley noted that, in some ways, Cordray's agency faces more limits on its budget and regulations than other federal agencies.
"These are extraordinary, then, measures related to the CFPB, and yet all we hear about is the CFPB actually has fewer restrictions than other banking agencies. Why is there so much confusion among some of my colleagues on this point?"
"I don't know, Senator."
Ohio Sen. Sherrod Brown introduced Cordray and condemned Republicans for blocking a qualified nominee because they don't like the agency he'd head.
The strongest defense of Cordray came from Elizabeth Warren.
She's now a Massachusetts senator. But she was the advisor to President Obama who first hired Cordray. And she had originally been expected to be the one to head the consumer bureau  -- until Republicans made it clear they would never confirm her.
"I see nothing here but a filibuster threat against Director Cordray as an attempt to weaken the consumer agency. I think the delay in getting him confirmed is bad for consumers. It's bad for small banks; it's bad for credit unions; it's bad for anyone trying to offer an honest product in an honest market. I hope you get confirmed. You have earned it Director Cordray."
Compromise coming?
There was a hint of a thaw from Tennessee Sen. Corker.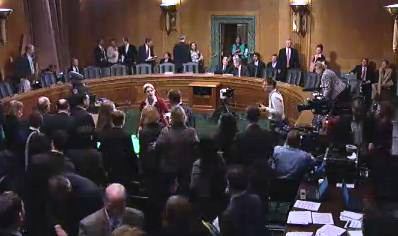 "Mr. Cordray, … I do appreciate the way that you've dealt with our office and I would say most people here. And I do hope that over the course of the next short period of time we're able to figure out a way for the entity to function in a way that makes everyone on both sides of the isle feel comfortable."  
Cordray told the Banking Committee his agency has handled 130,000 complaints from every state, including ones related to credit cards, mortgages and student and veteran loans.
Cordray is one of the Ohio Democrats whose name has been tossed around for a potential run for governor next year. That's considered a lot less likely if he's confirmed by the Senate for the consumer protection job.