He's the heart and soul of West Point Market, the quality food store his father established 75 years ago.
Russ Vernon has retired after putting in almost a half-century building the store on West Market Street into a foodie mecca. His son, Rick, now runs the family business.
Can't stay away from his customers
But the tall, thin, distinguished gentleman with the signature bow-tie just can't stay away.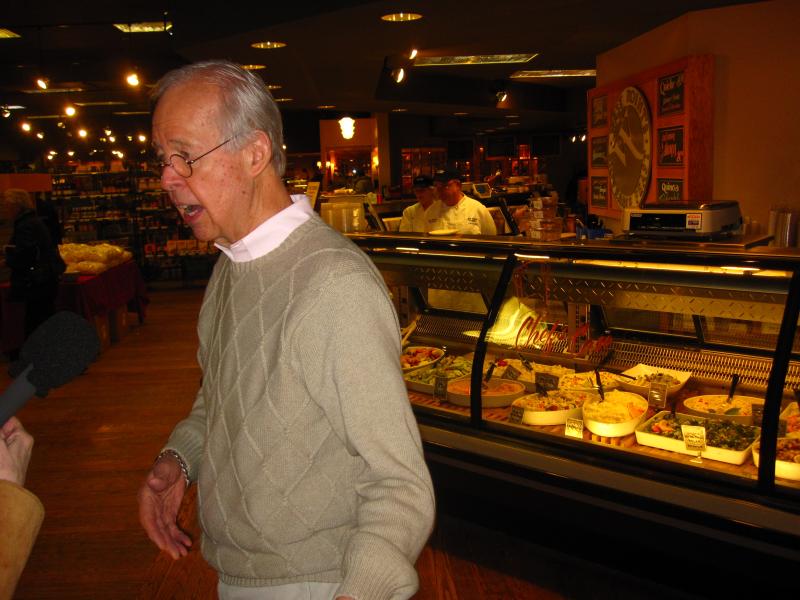 "Just yesterday in the aisles, I have two or three people around me and we're all trading recipes -- different ways to use marscapone. It's a passion."
A rich history of nothing but the best
Russ Vernon's father opened the store in the fall of 1936 along with two partners. All three had worked at Fred Wecker's high-end grocery store, the Highland Square Market.
"Fred Wecker was a very, very difficult man to work for. When my oldest sister was born, Fred would not let my father go to the hospital. He said, 'You leave and you can leave the business.' He was this kind of person."
But Vernon's dad was a determined kind of person, so he did leave to pursue his dream and steal Highland Square Market's well-heeled clientele.
He was aiming for the high-income business professional customer. But how could he and his partners get starting capital in the midst of the Depression?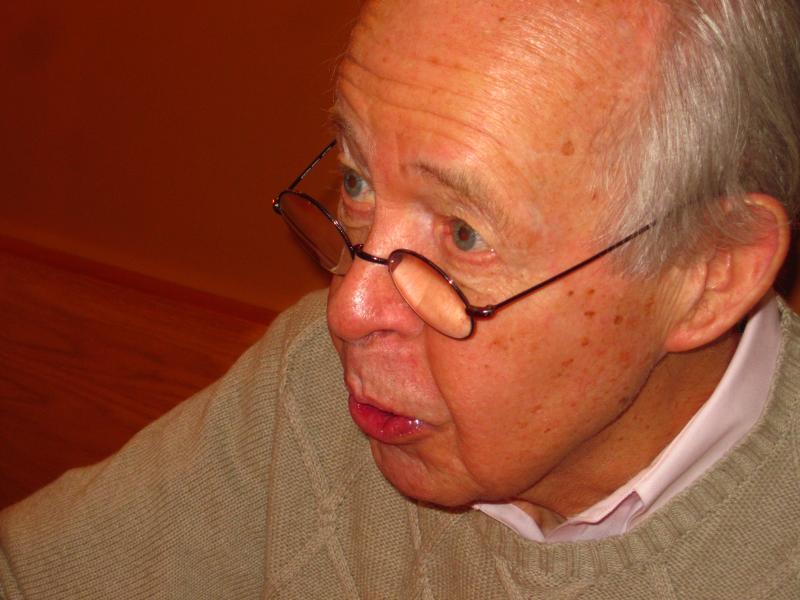 "Nobody would be lending three young men. They called themselves the boys. They were in their late 20s and early 30s. The bank that turned them down. My dad, at age 86, was still talking about that bank."
The partners managed to get their parents to back them with three $500 loans and the risky business was launched.
"Five blocks down the street from the best store in the city. That's risky."
But the gamble paid off. West Point Market was an almost immediate success.
The new best store in the city
"It eventually killed the Highland Square Market and unfortunately Mr. Wecker took his life on the high-level bridge."
Russ Vernon was just a child then. He grew up with the business.
"Until I was about 7 or 8, I didn't have any responsibilities. So I would ride up and down the conveyor belt in the basement and hide in the cereal section on Sunday mornings when we weren't open."
West Point Market didn't open on Sundays until 1997. That was Russ's father's idea.
Long before "farm-to-table" it was good to be local
His dad had another idea that was novel then but is now in vogue: promoting local products and produce.
"Local is key. Local has come back over the last five years. West Point Market had a farm back in the '60s. My dad would be growing our own tomatoes and he introduced the first Chinese peapod to the city."
Tiger meat and candied ants
At 23, Vernon gave up a banking career and returned from New Mexico with wife and child to take a bigger role in the family business.
"I had an interest in the unique products that were becoming available. At the time, it would be canned tiger meat and chocolate ants. That would be specialty food. I can remember selling 10 cans of tiger meat to a Princeton man."
Preferences changed as his upscale patrons got health-conscious. "They're watching their weight. They're watching their food. They're reading the labels."
Are they still buying tiger meat?
"No. Artisan foods," like Walker's shortbread.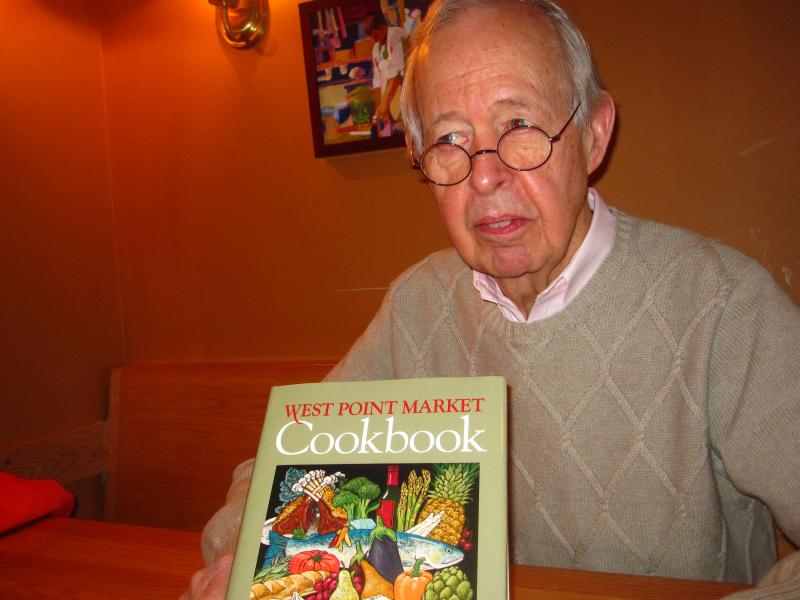 "We were the first to bring that in. I visited their plant in Scotland. And it's the first time that I've ever seen 30,000 pounds of butter in one place."
Forever in quest of quality
Russ traveled often and made sure that the Big Apple had nothing on Akron.
"I would take three associates into Manhattan once a year to hit a specific set of bakeries, cheese shops and stores just to see what was happening in New York."

He points to Boston Harbor Tea from Davison Newman and Company of London. "Those are the people that had the tea dumped in the harbor."
Bob Reed cuts meat at West Point Market. Of his ribeyes, he says, "You really almost just need a fork to cut it." Vernon has Reed make a special cut for him of just half a ribeye. He's thin but says he's watching his weight.
Improving on Good ideas
The West Point Market bakery is home of the original killer brownie.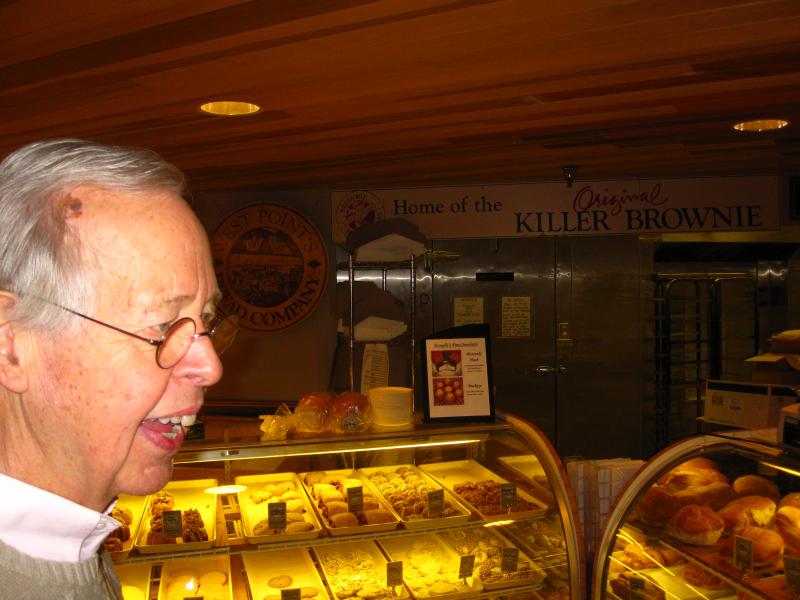 "That came off of a Betty Crocker box in 1950," says Vernon. "The turtle recipe came from them. Of course we upgraded the chocolate to Belgian and made it our own."
One in a long list of West Point Market signature items.
"Chicken pot pie came from St. Louis, Missouri. They let me in the kitchen of Schnooks. I brought the idea back with breast of chicken only."
He borrowed the name for the West Point Market's café from an Arizona resort lounge called "Beside the Point."
"I thought, 'Now there's a name." He acknowledges stealing ideas from all over the world. "That's right. If you steal one idea, it's theft. But if you steal six it's research."
Meaningful munching
Something catches Vernon's eye as we pass by the prepared food section, and he wants a taste.
"We do a lot of sampling," he says as he takes a taste of hummus. "Of course, I know it's good."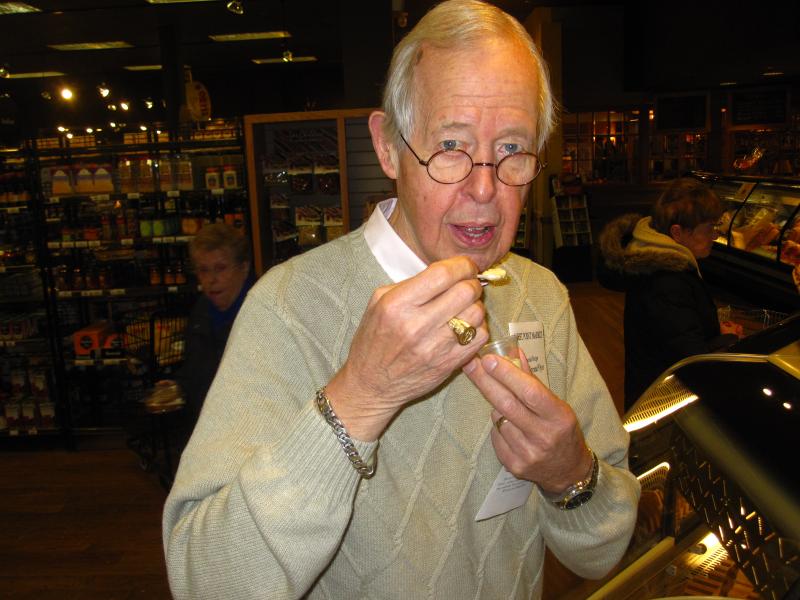 If you don't see Vernon in the store aisles, he's probably in the café counseling his SCORE clients. He's been in the Senior Corps of Retired Executives for 10 years, advising entrepreneurs like the owner of Cupcake Castle.
"A young lady who has a passion for baking, Jean Covel. She's got a nice little business on Mears Avenue"
And though he watches his weight he continues to support her. He feeds the cupcakes to his grandchildren.
Food memories to last a lifetime
Vernon also delights in watching kids climb the little staircase he installed facing West Point Market's bakery counter.
"Our little 3 and 4 and 5 year-olds climb the step and they get a cookie. When they're 35, they're going to remember climbing the steps and getting a cookie."
He knows from a treasured childhood memory how a store becomes something more.
On family trips to Athens, Ohio, he would visit a neighborhood grocery.
"I would run down through her backyard, open the rusty gate, and go down a dirt alley to Mrs. Bailey's grocery store. She would always be there with a piece of candy for me. I can still see Mrs. Bailey."

You want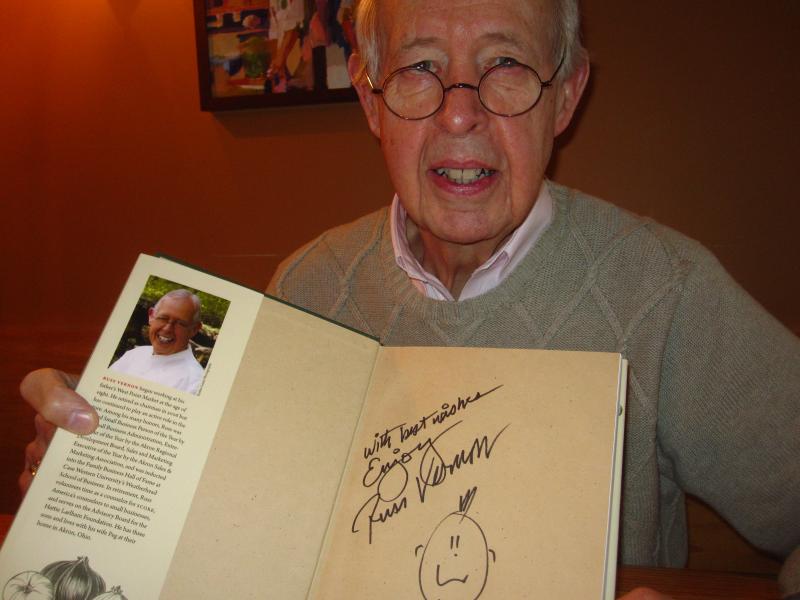 memories like that to be made here.

"Exactly."
Russ Vernon, a veteran quality grocer.
More of his stories and recipes are collected in the 2008 University of Akron Press publication, "The West Point Market Cookbook."
And that's this week's Quick Bite. Next Friday we're heading to the Cleveland Museum of Art for African delicacies.