Loading...


Economy and Business



Monday, March 18, 2013




Steel shipments on the rise at Port of Cleveland




Increased demand for domestic and imported steel is driving shipping rebound at the Lake Erie port


by WKSU's KEVIN NIEDERMIER


Reporter
Kevin Niedermier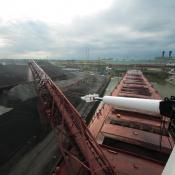 Giant barges like this American Steamship Co. freighter travel up the Cuyahoga River to deliver iron ore pellets to ArcelorMittal Cleveland's steel complex. Annual activity at the port has risen 5-6% for two years running.
Courtesy of Bob Perkoski, www.Perkoski.com
Download (WKSU Only)
In The Region:
Cargo has started moving on the Great Lakes, and the Port of Cleveland is expecting its first freighter soon. Port official Dave Gutheil says last year the port handled about 355,000 tons of imports. That was about 6 percent more than the year before. Most of those shipments were European steel.
Gutheil says this season could be even better.

"One of our largest steel shippers has already given me some feedback that they foresee a little bit of a bump in the demand for their product going into 2013 vs. 2012 so we're hoping to get as high as 370,000 to 375,000 tons this year just on the international side. We expect small growth in the bulk side of the business and a lot of that demand is driven by the demand for domestically made steel at the ArcelorMittal steel plant here in town."
Those bulk shipments are iron ore, coke and limestone. The first freighter of the season is expected next week at the Port of Cleveland. It is a shipment of Dutch Steel.
---
---
---
Stories with Recent Comments