Loading...


Sports



Wednesday, March 20, 2013




March Madness: The allure of the little guys




Terry Pluto explains why so many millions are drawn to March Madness


by WKSU's AMANDA RABINOWITZ


Morning Edition Host
Amanda Rabinowitz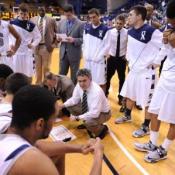 The University of Akron Zips won the MAC Championship and will play Virginia Commonwealth in the first round of the NCAA tournament.
Courtesy of University of Akron
Download (WKSU Only)
This week, millions of people will be filling out their NCAA men's basketball tournament brackets and watching the dozens of games that are played over a few days. WKSU commentator Terry Pluto talks to Amanda Rabinowitz about why we go so mad for March Madness.
The outplacement firm Challenger, Gray & Christmas Inc. estimates March Madness will cost American companies $134 million in "lost wages" as an estimated 3 million workers spend between one to three hours watching hoops. Northeast Ohioans will likely be tuning in as the University of Akron faces Virginia Commonwealth, and Ohio State plays Iona. WKSU commentator Terry Pluto breaks down why the tournament generates so much interest.
---
---
---