Loading...


Courts and Crime



Tuesday, March 19, 2013




Teens arrested for allegedly threatening Steubenville rape victim




Two girls are accused of social media threats after her molesters were found guilty of rape


by WKSU's TIM RUDELL


Reporter
Tim Rudell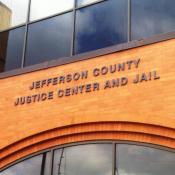 The first hearings arising from the post-trial threats against the rape victim were held in Steubenville
Courtesy of tpr
Download (WKSU Only)
In The Region:
The Steubenville teen rape story continues, even though the trial that brought international headlines to the small Ohio River town is over. WKSU's Tim Rudell reports on two teenage girls who are now facing charges of trying to intimidate the victim.
The girls are from Steubenville, though it is not clear if they know each other. Their names are being withheld because one is 15 years old and the other 16. They're accused of posting threats on social media sites against the 16-year-old Weirton, W. Va., girl at the center of the rape case.
In a trial that ended Sunday, two Steubenville High School football players were found guilty of sexually assaulting her. Facebook posts appeared threatening her with a beating and "homicide." Local law enforcement went after the posters, and say they turned out to be the two teenagers now in custody;one was arrested, the other reportedly turned herself in.
Each was charged in Juvenile Court with a third-degree felony-- intimidation of a victim—and misdemeanors, and if convicted,could face up to five years of incarceration. Both are now in the Jefferson County Detention Center pending another hearing, March 27.
---
Related WKSU Stories

Ohio Attorney General defends arrests in Steubenville
Tuesday, March 19, 2013

Steubenville teens guilty in rape case; Ohio AG to continue investigating
Sunday, March 17, 2013

Steubenville rape case is now up to the judge
Saturday, March 16, 2013

Social media amplifies the controversy and message in Ohio rape case
Thursday, March 14, 2013

Steubenville rape allegations spread through social media
Monday, January 7, 2013

Ohio AG steps into sensational rape case
Friday, January 4, 2013
---
---
---
Stories with Recent Comments