Loading...


Courts and Crime



Thursday, March 21, 2013




Mental health needs rise after the Chardon shooting anniversary and sentencing




The spike follows a major increase in need after three were killed at school last year


by WKSU's KEVIN NIEDERMIER


Reporter
Kevin Niedermier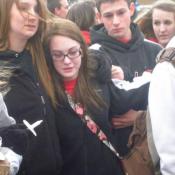 Chardon High School students comfort each other during the shooting's one year commemoration last month. The anniversary, and this week's sentencing of shooter T.J. Lane sparked an up tick in requests for mental health services as the community relived the incident.
Courtesy of Kevin Niedermier
Download (WKSU Only)
In The Region:
After last year's deadly shooting at Chardon High School, the need for services from Geauga County's mental health department exploded. Requests grew by 20 percent each month for six months before leveling off.

As WKSU's Kevin Niedermier reports, requests spiked again following the recent one-year anniversary, and this week's sentencing of shooter T.J. Lane.
Geauga Board of Mental Health Chief Executive Jim Adams says the community's reaction to these so called "trigger events" was expected.

"What we've seen is a higher level of anxiety, depression, and concern among individuals, particularly since the conclusion of the trial the other day. That was a very upsetting event for many people, and rightfully so."

In the courtroom, T.J. Lane cursed at his victim's families before being given three life sentences for killing three students in the school cafeteria on Feb. 27, 2013. Adams says the rise in the communities' emotions from these events is much like what happens in a family.

"When there's an anniversary of a loved one who's died, or a tragic accident in a family's life, it's the same in the community, or family, of Chardon. That was to be expected, and it's perfectly normal and natural."

Adams expects requests for mental health services in Geauga County to keep rising slightly for another month or so before settling back down again.

---
---
---
Stories with Recent Comments