Loading...


Government and Politics



Friday, March 22, 2013




The FAA is shutting down Cuyahoga County Airport's control tower




The tower is a victim of the federal budget sequestration


by WKSU's KEVIN NIEDERMIER


Reporter
Kevin Niedermier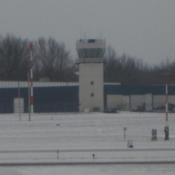 Cuyahoga County Airport's control tower is being shut down because of the federal budget sequester. The facility now employs 5 full time controllers.
Courtesy of Kevin Niedermier
Download (WKSU Only)
In The Region:
The Federal Aviation Administration is shutting down the control tower at the Cuyahoga County Airport, and at two other small Ohio airports. The closures announced today are part of the FAA's effort to cut $600 million from its budget because of the federal sequestration.

The Cuyahoga County Airport tower was on a list of more than 100 the FAA had targeted for possible closure. County officials say they're concerned about safety, and about the impact that could have on the attracting new business to the facility that now has 54 companies employing 3,000 people.

When the tower closes April 7, the Cuyahoga airport's takeoffs and landings will be monitored by Cleveland Hopkins Airport about 20 miles away. Mike Matejka is a flight maintenance manager at Cuyahoga's airport. He says in the nearly 40 years he's worked there, the control tower has always been operating. He blames politics for the closure.

"This was probably one of the easiest ways for the FAA administrator to make his targeted budget cuts. If cooler heads prevailed and good safety and cost effectiveness studies had been done, things might be different. The controllers here are very cost-conscious and do a great job. Too bad we can't keep it going."

Matejka says a big problem with the Cuyahoga airport's planes being controlled from Hopkins is weather conditions. While it might be sunny and clear at Hopkins, there can be low visibility at Cuyahoga airport.

Regional airport towers at the Ohio State Universityand Bolton airport in Columbus will also close. The FAA had considered cutting overnight control tower shifts at the Akron-Canton, Youngstown-Warren and Mansfield Lahm airports, but those shifts will not be eliminated.

---
---
---
Stories with Recent Comments