A mix of German and American workers are bolting together parts on the floor of Wingfoot hangar in Suffield, just outside Akron. More airships have been built in this 1917 building than anywhere in the world.

Up above, a camera is taking time lapse photographs to capture the dawn of a new era at Goodyear. They'll replace the present day GZ 20 blimps with a version called the Goodyear NT.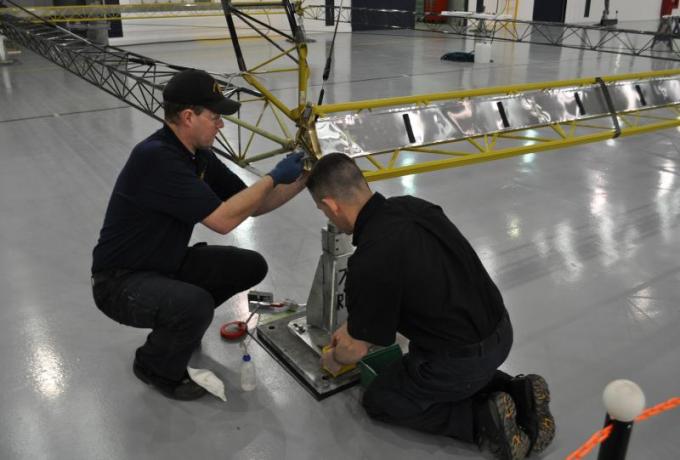 It will have three engines and be 50 feet longer than today's blimp. Goodyear's Director of Global Operations for Airships Nancy Ray says the new blimp will have significant improvements.
"First off the ship is faster, so our cruising speed today is about 30 mph. The cruising speed with the new airship is about 50-55 mph. They are quieter so you guys will have to listen much closer to hear us coming over."
For the first time since World War II, the Goodyear blimp will have an internal frame. That's what the crew are assembling this week.

Now, in Akron, lighter than air aficionados will argue that the aluminum and carbon fiber frame makes it a zeppelin.
Blimp spokesman Ed Ogden …
"Technically, it's not a blimp, it's an airship, a semi-rigid airship. I would never discourage anyone from calling it a blimp. I like the term." It may be quieter, but Nancy Ray says the new blimp may be more noticeable. "We are working on a brand new electric sign developed completely in-house. They're actually testing it today. It will be more than double the LED's so the pixels will be much greater. It will be much brighter so we'll be able to do graphics day and night."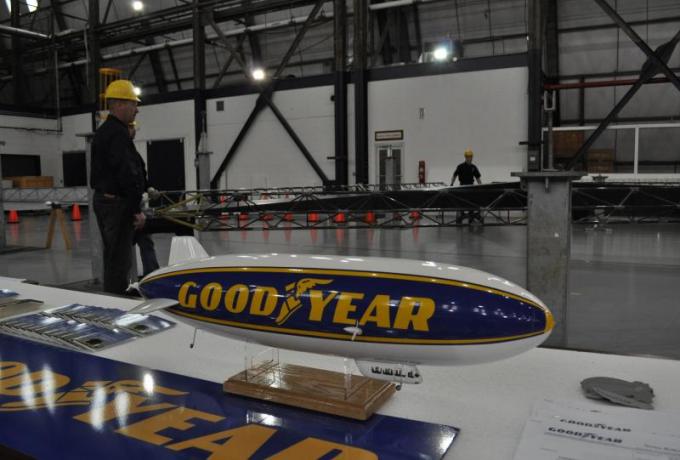 One of the American mechanics working with the German crew from ZLT Zeppelin is Tom Bradley. The Air Force veteran who grew up in Dayton calls himself an aviation nut. "I've spent my life watching the Goodyear blimp fly over as a kid. Urycki: "You have a one in a million job." Bradley: "I have no doubt I'm one of the luckiest mechanics ever."
The basic design of the ship is from ZLT Zeppelin, but Goodyear made alterations to adapt it for what it needs.

One of the young blimp pilots, James Kosmos, offered some ideas on the cockpit design. He used to fly jets.
So, what's it like going from jet speed to blimp speed?
"The blimps are way more fun. 20 mph at 1,000 feet is more fun. You see a lot more and it's a little bit more of a challenge to fly, too. So it makes it exciting."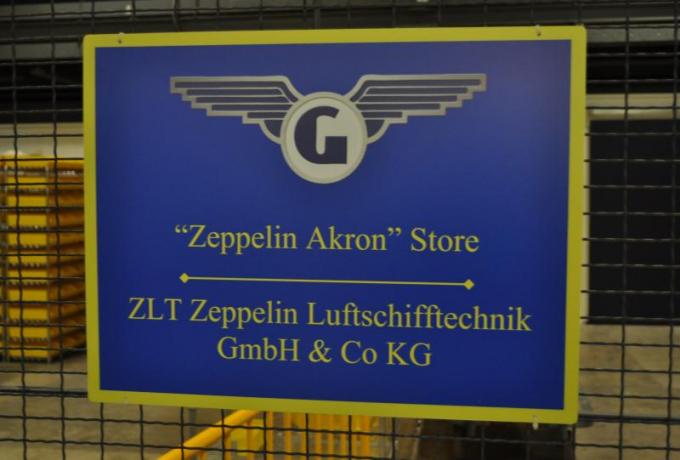 The most notable change for the pilots will be that the three engines can vector or tilt so the new blimp can take off or land straight up and down, like a helicopter. A ground crew won't be needed to hold it steady. And the pilot won't have to strong-arm a big wheel anymore. The new blimp will have fly-by-wire electronic controls.
The Goodyear NT will also have a new skin: polyester with a layer of Tedlar polyvinyl fluoride.

Officials aren't saying what the blimp costs.

The frame will be finished in May, the envelope goes on in June, the gondola in August. The first flight is expected in late fall.