Loading...


Education



Monday, March 25, 2013




Strongsville teachers, board are to meet Tuesday to try to settle strike




Negotiating sessions have been few since the walkout began March 4


by WKSU's KABIR BHATIA


Reporter
Kabir Bhatia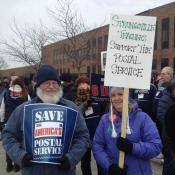 When Michael Mion, a letter carrier for over 24 years, came out to protest the elimination of Saturday mail delivery, he was joined by Strongsville teachers like Ann Walz, who has been on strike for over 3 weeks
Courtesy of K. Bhatia
Download (WKSU Only)
In The Region:
It's spring break for many schools in Northeast Ohio. But in Strongsville, teachers will be busy with a fourth week of picketing. And in a show of solidarity, they'll be joined by postal workers who are unhappy about a completely different issue. WKSU's Kabir Bhatia.
On Sunday, about 200 postal workers and their supporters came out to protest the planned elimination of Saturday mail delivery. And among the crowd in front of the main post office in downtown Cleveland were several Strongsville teachers. Their union president, Tracy Linscott, says it's a show of support among Ohio's strong union membership.

"I was one of the strong advocates against Senate Bill 5. And a lot of these same people were attending the same rallies that I was attending in speaking out against it."

She's referring to the defeated law voters repealed in 2011 that would have curtailed collective bargaining for public employees. Strongsville teachers have been on strike since Monday, March 4, two days after the school board presented its last, best offer. Since then, the board has stuck to its position, and no progress has been made.

Last week, the teachers' union met with Strongsville Mayor Thomas Perciak and prepared a new contract proposal based on his recommendations.

The school board has agreed to meet with teachers and a federal mediator on Tuesday to discuss the new proposal.

Linscott says, under normal circumstances, right now she'd be looking ahead to the final semester of the school year and teachers would be preparing their first- through eighth-graders for the Ohio Achievement Test. "We're not going to be there reviewing the types of questions that they will have to answer, ... the writing style that you will need to properly answer the questions."

While Linscott and nearly 400 other teachers are picketing this week, they will be joined at times by United States postal workers like Michael Mion. He's been a letter carrier for 24 years and says the protests supporting Saturday delivery remind him of something he heard years ago in the private sector.

"The owner of the company told me, 'Once you have a customer, you should never lose them. We spent too much time, money and effort to get that customer.' We have our Saturday customers. Why would we give those away? It doesn't make sense for a service organization to give our customers to somebody else. Look what UPS was, 50 years ago. [Now] look at them today."

Ending Saturday delivery would save $2 billion annually, according to the postmaster general. Opponents say a better option is to kill a Congressional mandate that requires pre-funding of postal pensions to the tune of $5.5 billion a year until 2016.
---
---
---
Stories with Recent Comments