Loading...


Economy and Business



Monday, March 25, 2013




Northeast Ohio manufacturer opts for upgrades instead of layoffs




Aircraft parts maker will spend millions in Akron


by WKSU's TIM RUDELL


Reporter
Tim Rudell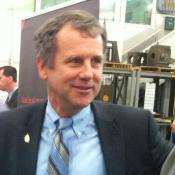 Senator Sherrod Brown came to Akron for the announcement of plans to invest in the Meggitt plant
Courtesy of Tim Rudell
Download (WKSU Only)
In The Region:
Jobs that could have been heading south, including south of the border, are staying in northeast Ohio. WKSU's Tim Rudell reports on a plant upgrade in Akron that will keep a couple of hundred local paychecks coming.
The British owners of Meggitt Aircraft Braking Systems, near the Air Dock on Akron's south side already moved some of their operations to Kentucky and were talking about taking most of the rest to Mexico. But labor and government leaders from Akron to Washington worked together to get them to reverse course.

A change of heart
Now the company is not only staying put, it's spending $4 million to upgrade the Akron facilities where it makes parts for commercial and military aviation. U.S. Sen. Sherrod Brown was in Akron for the announcement. He says that while there was a bit of arm twisting involved, the company's good will was a major factor.

"Federal law says that when production is part of the Defense Department it needs to be in this country. But we also know that this company has made a pledge, not only with the defense work being in Akron, Ohio, but also a lot of the non-defense commercial work.

Upgrading the Meggitt locations in Akron will keep about 200 jobs here. Akron will also remain corporate headquarters for the Meggitt Aircraft Braking Systems; the parent company is located in the UK.
---
---
---
Stories with Recent Comments