Loading...


Government and Politics



Wednesday, March 27, 2013




Cuyahoga County taking legal action to keep its airport control tower open




The county says the FAA didn't follow its own safety assessments when ordering the tower closed because of federal budget cuts


by WKSU's KEVIN NIEDERMIER


Reporter
Kevin Niedermier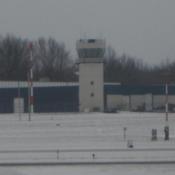 The tower at Cuyahoga County Airport has 5 full time controllers who will be laid off because of the federal budget sequester. The county is trying to fight the closure in court.
Courtesy of Kevin Niedermier
Download (WKSU Only)
In The Region:
Cuyahoga County is taking the Federal Aviation Administration to court over its decision to close the county airport's control tower.
The tower is among more than 150 across the country being closed because of the federal budget sequester. But as WKSU's Kevin Niedermier reports, county officials say the FAA ignored its own safety rules when deciding the tower in Richmond Heights isn't necessary.
Cuyahoga County is filing an appeal with the FAA, as well as a petition with a federal appeals court asking for reviews of the agency's decision. County Executive Ed FitzGerald says the basis of the legal action is that the FAA is closing the tower without doing a required risk assessment, a review of how flights diverted from the county airport will impact other airports and whether the closure makes economic sense.

"To pull these air traffic controllers out in this very arbitrary and abrupt manner has an effect on public safety," FitzGerald said. "And the FAA administrator is required by statute to make a public interest determination before that decision is made. We don't believe that process has been followed."

FitzGerald says a Spokane, Wash., airport has filed a similar action and more may come. He will ask the U.S. appeals court to consolidate the cases.

The FAA would not comment.

If Cuyahoga County Airport's tower closes in the next month as planned, its more than 40,000 annual takeoffs and landings will be controlled from Hopkins Airport, 20 miles away. The FAA is also closing towers at Columbus's Bolton Field and at the Ohio State University Airport. The university has opted to pay for its controllers itself. FitzGerald says that's an option he's considering, but he doesn't want to let the FAA out of its obligation so easily.

---
---
---
Stories with Recent Comments