The economic condition of the county is on the rebound as sales tax revenue and property tax revenue have grown. But County Executive Russ Pry can only long for the good old days of 2007, when he first took office and had a $121 million budget to work with.
"In total, revenues from sales tax, property transfer tax, investment earnings and local government funds were $15 million less in 2012 than they were in 2007."
Cuts and more cuts
The county's general fund dropped $21 million since 2008 and Gov. Kasich cut the county's share of the local government fund -- $15 million -- in half. Summit County has dealt with it by consolidating departments and reducing its work force by some 700 workers. The county's building department now handles all the cities in Summit. Pry says area agencies are now working together on care for the most vulnerable elderly people and another group for children. Other collaborations will focus on re-entry programs for ex-cons.

The building permit process is going online and the geographic information system, or GIS, is being consolidated under one roof.

This year he'd like to do that with what was once called the "Welfare Department."
"Currently the Department of Jobs and Family Services is housed in four buildings in the northern end of downtown. Operations are fragmented and inefficient at times and the public often must move between buildings for services. Parking is scattered over several blocks for our employees and nearly non-existent for our clients."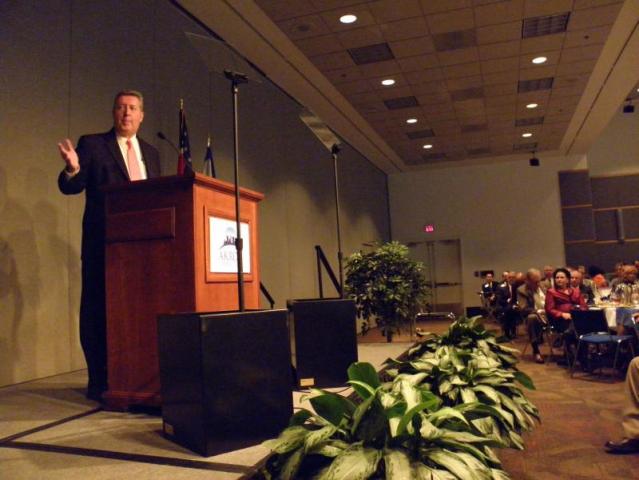 Goodyear, Firestone and industrial parks
Potential sites include the former Goodyear headquarters or the former Firestone headquarters. Last year, the county helped both companies build new buildings.

Another effort to help grow area companies revolves around extending county sewer lines. That's being done now for an industrial park in Hudson. Pry says he wants to do the same for an industrial park near Akron-Canton Airport.
"My assumption would be that it would be similar jobs to what currently exist down there. There are some manufacturing jobs that are in that industrial park; there are warehouses down there."
Pry says the sewer lines to Green have nothing to do with rumors that Thistledown would like to move its racino from the Cleveland suburbs to that area.

Other plans call for bringing sewer lines due west of the airport to the village of Clinton. It's under pressure from the EPA to clean up old septic systems.
"The village of Clinton right now is being held captive for not having sewers. They can't get permission to do anything with any time of septic systems down there. And we have a trailhead for the Ohio and Erie Canal that's in Clinton; we have the Viet Nam Veterans Memorial in Clinton. You can't get restrooms to service any of those things."
Sewer lines will be paid by assessments on property owners. For other county initiatives, Russ Pry says he'll be watching to see what kind of budget the state Legislature passes.