Loading...


Environment



Monday, April 1, 2013




Want to track storms? Then Cuyahoga County wants you




Training is being offered this week for eyes on the ground to help verify what sophisticated weather radars cannot see


by WKSU's KEVIN NIEDERMIER


Reporter
Kevin Niedermier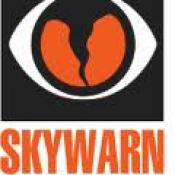 Skywarn is the National Weather Service's training program for storm spotters. The volunteer program now has nearly 300,000 members nationwide.
Courtesy of National Weather Service
Download (WKSU Only)
In The Region:
With the spring storm season rolling in, Cleveland' National Weather Service office is looking for storm spotters. This Thursday, the weather service, along with Cuyahoga County' Emergency Management Department, is holding a storm-spotter training session. It teaches participants how to recognize weather conditions that result in severe thunderstorms, flash floods and tornadoes. Bruce Kalinowski is a meteorologist at WKYC-TV3 in Cleveland. He says about 95 percent of all tornado warnings are based only on radar observations. But even with today' high-tech equipment, having spotters on the ground is important to verify actual tornado touchdowns.
"Nowadays, with the sophisticated Dual Polar and Doppler radars, you can detect the circular movement of the raindrops in the clouds. But does it hit the ground? That's not confirmed at this time, so the eyes on the ground are important to see that and make that confirmation."
Cleveland's National Weather Service office says it has more than 1,000 storm spotters in Cuyahoga County. Thursday evening's training begins at 6 p.m. at the Mayfield Village Civic Center on Wilson Mills Road. The program is open to anyone who wants to participate.
---
---
---
Stories with Recent Comments