Three-year-old Conrad Wadkins has just climbed off a giraffe. He and grandmother Debbie are looking for his next ride, giving consideration to rabbits and cats and the like. Their choices also include an ostrich, a tiger, a zebra and a chariot. And, of course, the "flag" horse adorned with a blanket of flowers on the outer rail of the gleaming brown deck.
They're visiting the Richland Carrousel Park. Its glass walls keep out the cold, extended-winter day. Co-director Sharon Bishop says they also require muting the music. But on a bright summer day, she promises, "We open these doors, and we turn on our beautiful Stinson organ. The reason we don't run it right now is because it would vibrate all of the windows (because) it is loud and it is gorgeous."
The world largest (and only?) wooden carousel maker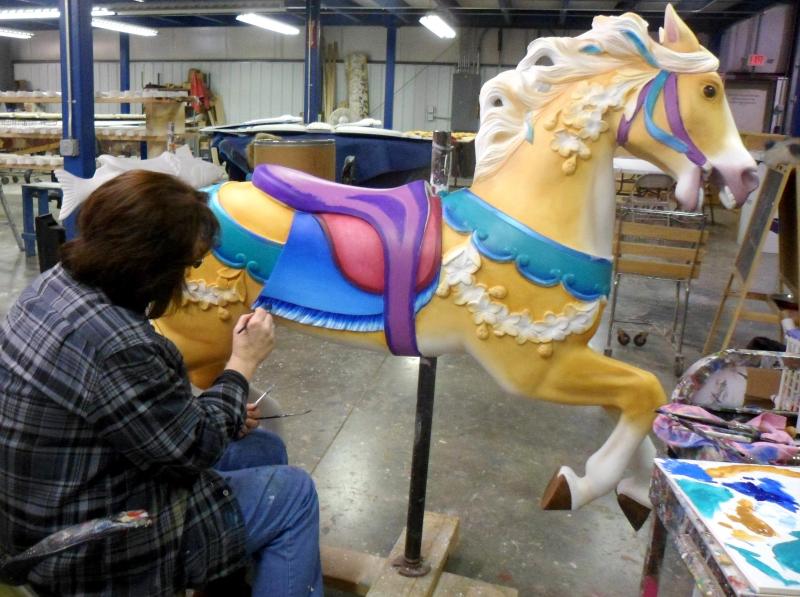 Richland's carousel was build 22 years ago, the first built in the U.S. since the Depression and one of the earliest works of Carousel Works.
It's the world's largest wooden carousel maker. Granted, says marketing manager Kate Blakley, there's not much competition.
"We are really a word of mouth business. It's not like you can really cold-call someone to sell a carousel."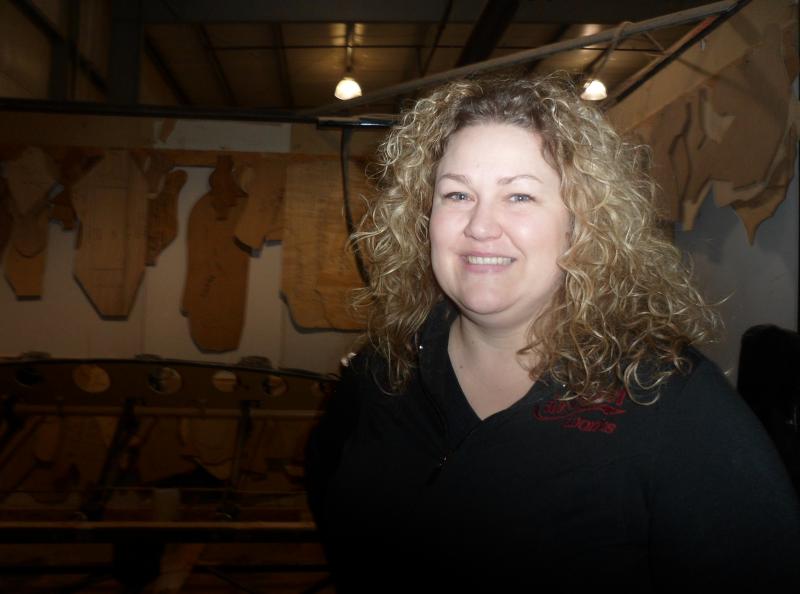 But the word of mouth has spread pretty far, including to a shopping mall in South Korea.
"They wanted an American fairy-tale theme. There's a chariot that's like a princess carriage. And all the horses are very romanticized, some themed towards boys with knights in armor and jousting, and some themed towards girls with flowers and jewels."
Other of Carousel Works works are in zoos from Washington, D.C., to Washington state, while others go to vineyards, parks and even private homes.
Each is specialized, as evidenced by the work the new carving department is doing for Mill River Park in Stanford, Conn. "Theirs is kind of a mix of horses and animals that natural to the Stanford area, so they have harbor seals and turtles and rabbits and things like that."
The work that began with 'why not?'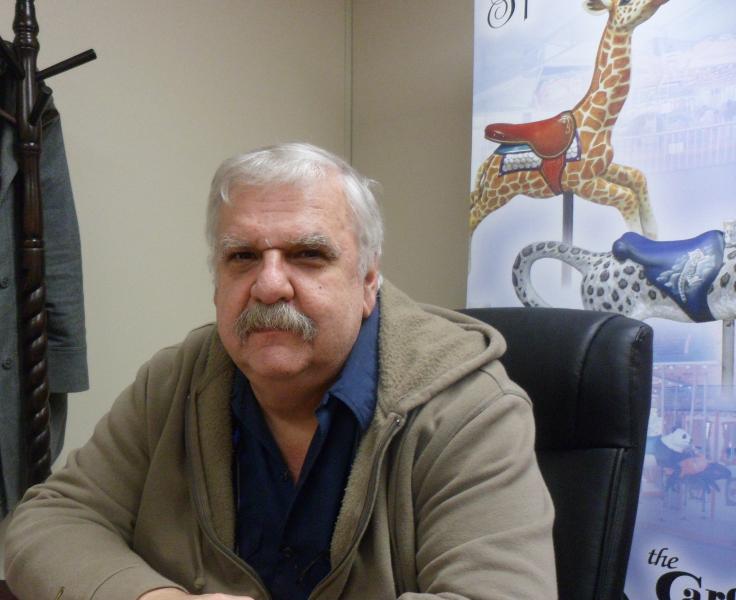 The Depression killed off most of the demand for carousels, but not for what they represented. Back in the '70s, Art Ritchie started carving individual carousel figures for customers. And he remembers many saying, "'Too bad you can't build carousels anymore.'"
So he checked it out. New fiberglass models were going for about a quarter of a million dollars. Restoring the antique wooden models was running more than a million.
"So we just started playing around with it," he says. And more than two decades later, he's still playing.
"It's no different than anything else. Why do writers keep writing? Why do actors keep acting? Why do you keep doing your job? You either do it because you have to get paid so you can pay the bills at the end of the month or you have a challenge you want to keep going at it."
Carousels take up a lot of space
Chalk Ritchie's motivation up to a little bit of both. He has a partner now, Dan Jones. And Carousel Works has outgrown its space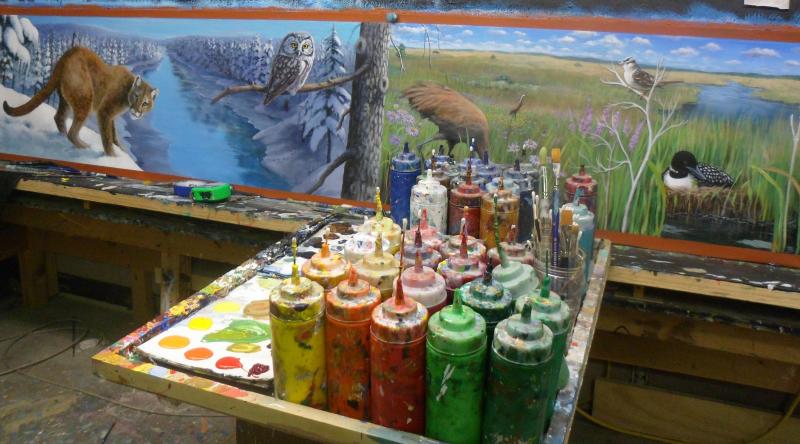 outside Mansfield – twice -- and now spills over from its 26,000 square feet into storage space in the building next door.

Says Kate Blakley (who's also Ritchie's daughter), "It's a good thing. Carousels take up a lot of space though, so we always need more."
The company is working on its 54th carousel and employs 25 carvers, carpenters, machinists, electrical workers, artists and jacks-of-all trades.
Nothing beats 3-D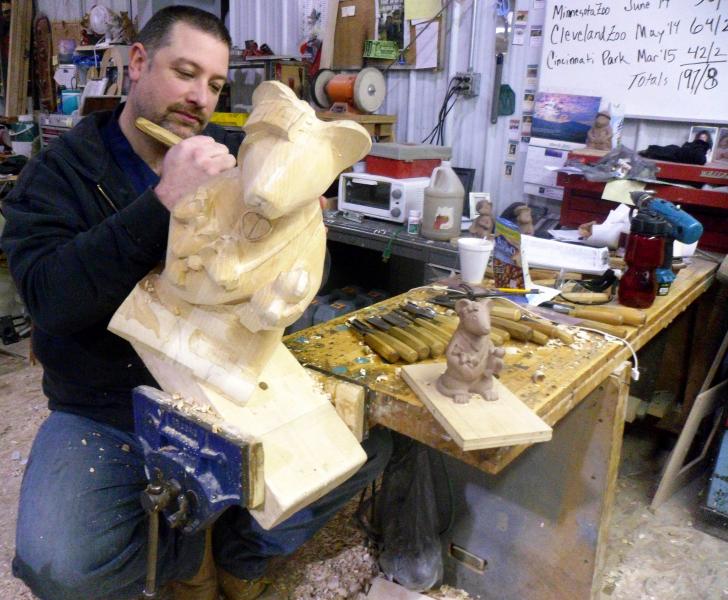 One of them is Don Blakley, a carver – and Kate's husband. It is, after all, still largely a family business.
"I was planning on going to an art institute. (But I) tried this, tried three dimensional, fell in love with it. Now there's no turning back."
Not all the work at the factory is carousels. Blakley is transforming a miniature momma mouse into a mid-sized momma mouse that will be the pattern for a really big momma mouse. It will be one of the figures stationed throughout the new children's hospital in Columbus.
From the ornate to the streamlined
Tim Gorka is working nearby on a mane of flowers hidden in a piece of smooth bass wood.
"I think if I was retired, I'd still be doing the same thing I do every day now. For me, it's relaxing, it's fun, it's rewarding to work on something that kids jump on and that you can see the joy."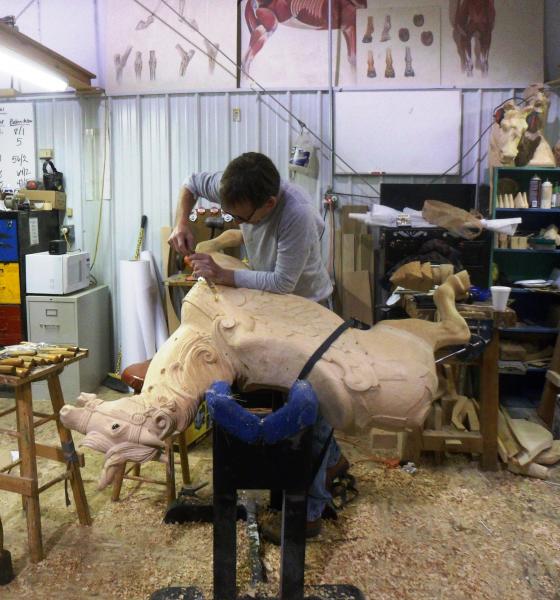 He says his favorite figure ever is "whatever I'm working on at the current time." But he acknowledges he has a special spot for horses, especially the flashy ones with straps, saddles, flying manes and wild tails.
Still, each of Carousel Works' carousels is custom built. And Kate Blakley says some customers are minimalists.
"Typically in carousels, this is covered," she says as she points to a wooden frame. "But in this case, you'll actually see through the carousel. So what we do is just make it aesthetically beautiful with lots of wood and steel and different angles. When it's open like this you can see the gears moving and you can see the motion of the carousel. And a lot of people are just very attracted to that."
Euclid Beach remembered
What many are attracted to, though, is the symbol of past. And no small part of Carousel Works' orders are restoration.
That includes the Euclid Beach Park Carousel. Its 58 horses and two chariots were a landmark in Cleveland for nearly 60 years, until the park closed in 1969 and parts were scattered as far away as Maine.
The horses have been restored, with a few replaced. But what really excites Kate Blakley is a hulking piece of aged wood in the middle of her factory.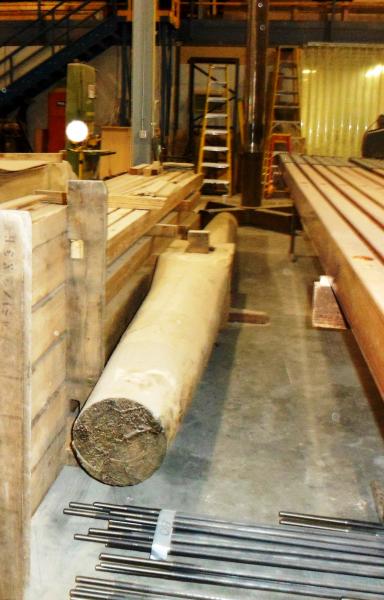 "This is what stands in the center and holds the whole entire carousel up. It needs restoration, but it's definitely repairable," she says. Most such poles now are metal, 'so the fact that it's made out of wood and is the original … that's really wonderful. That's a really awesome part of the carousel. "
Glass houses
The final massive panes of glass are going onto the pavilion at the Western Reserve Historical Society in University Circle. It was specially built to house the carousel. Terry Kovel is spearheading the restoration drive. She's a national antiques expert, but this effort is really a tribute to her late husband Ralph, who loved antique carousels.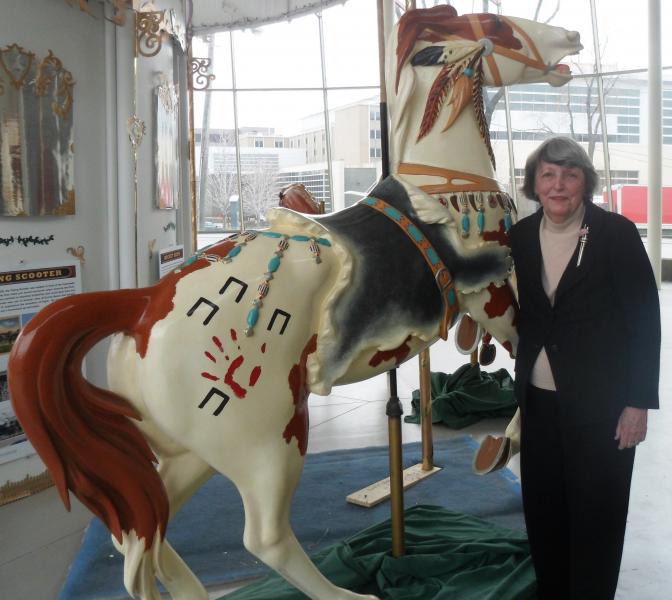 And she says,he has plenty of company, people who are willing to contribute to the $1.6 million cost of the building and restoration, plus $400,000 for an endowment.
"Really nobody's saying 'no' to us. Everybody remembers Euclid Beach, everybody wants to buy a brick or a horse or something so that they can have their name on it."
And it turns out that carousels are attracting attention even from some unexpected places. Kovel remembers a doctoral student stopping in for help with her paper on the ethnic influences on carousel horses.





The short read on carousels, carousel-making and Euclid Beach:
Carousel Works
The world's largest wooden carousel maker is headquartered outside Mansfield.
The company is working on its 54th carousel. Customers include zoos, parks, vineyards and malls as far away as South Korea.
The size of the carousels range from 14 to 90 figures. Most are made from pieces of bass wood glued together.
Prices range from about $200,000 to more than $1 million.
The modern carousels have been adapted to include LED lights, water-based acrylic paints
Richland Carrousel Park
Located in downtown Mansfield, the carrousel was built by Carousel Works, which then moved its small company from New England to Mansfield. The Richland Carrousel was the first new hand-carved carousel built in the U.S since the 1930s, and began operating in 1991.
Supporters raised more than $1.25 million to build the glass-walled building that is opened in the summer.
Richland Carrousel Park also has a Stinson organ.


Euclid Beach Park
Opened in 1895 in the Collinwood neighborhood of Cleveland
A carousel made by the Philadelphia Toboggan Company was installed in 1910. Over the years other attractions joined it, including roller coasters, a pool, a fun house and ferris wheel.
For decades, the park limited admission of African Americans, and it became the site of racial protests in 1946.
The park closed in 1969, and its carousel was sold to Palace Playland in Maine.
The Western Reserve Historical Society in University Circle set out to acquire most of the the horses and chariots, and to restore them.
In 2010, the historical society partnered with Cleveland's Euclid Beach Park Carousel Society and Euclid Beach Park Now to restore the carousel for public use. Antiques expert Terry Kovel is spearheading the effort.
The society is completing construction of a wood and glass pavilion to house the carousel. In all, the project hopes to raise $2 million, $1.6 million for the restoration and building and $400,000 for an endowment.