Preying on the down-and-out
Richard Beasley had preyed on the weak. The men he robbed and killed had called about a job offer for a caretaker for a farm in Noble County. They were down on their luck and looking for a fresh start. Even Beasley's partner in crime was a 16 year old, Brogan Rafferty, he had met in church.
Michael Shea spoke for the family of 56-year-old Ralph Geiger, who had spent time in a homeless shelter.
"Ralph loved animals. It was common for him to pick up a stray dog or feed one of the feral cats at the mobile home park where we worked at one point. On August 8, 2011 Ralph trusted the convicted. He believed his lies because he had hope and faith he was going to make a new beginning."
Fifty-one-year-old David Pauley responded to the Craigslist ad, coming back home to Ohio from Virginia. His sister, Deborah Bruce, said he too was looking for a new beginning. "You took my best friend, my confidant, and my twin. The past 17 months have at times been unbearable."
Beasley and Rafferty shot three men on the farm and buried two of them there, including David Pauley. "Last week, I stood at the place you buried my brother in. I thought about the fact you showed him no mercy."

Beasley claims he's innocent and will appeal
One victim who did get away was Scott Davis. Beasley was walking behind him when Davis heard the cock of a pistol. He was shot in the elbow but kept running.
"I laid in the woods seven hours not knowing if I was going to live or die. I started to get cold due to the blood loss and figured, 'This is it.'"
Davis gave thanks to God for giving him a warm feeling and the strength to walk several miles to a farm house where he called for help. He led police to Beasley and the Craigslist ads.
Beasley had his own chance to speak and claimed he had killed nobody and called Scott Davis a liar. Judge Callahan stopped him, saying, "I'm not going to sit here and retry this case with you." She said Beasley could address the sentencing. He went on.
"There will be appeals. This case will be reversed, there will be a retrial, and I will be found innocent. But the families, I'm sorry you had to go through this… If any of you have questions feel free to write me or even visit me. I'll answer your questions."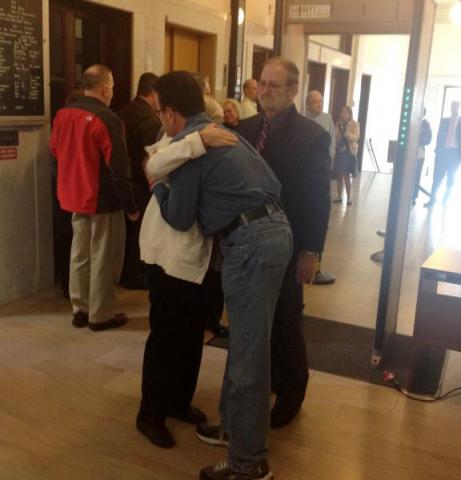 Families seek closure
Judge Callahan later was heard saying she felt sick. Jack Kern, the father of victim Timothy Kern, told reporters that Beasley's comments were unbelievable.
"He's an animal, nothing but an animal. He murdered our son for $5. That's what it was, $5."
The families of the victims hugged each other sharing their own bond in tragedy. Several said the end of the trial brings some closure. Jack Kern stood with his arm around his wife and said, "Maybe we can sleep tonight."