Loading...


Courts and Crime



Thursday, April 4, 2013




Daughter's boyfriend charged in murder of prominent Akron couple




Suspect is in custody but police say investigation is ongoing in the grisly murder of attorney and his wife




by WKSU's GRANT ENGLE


Reporter
Grant Engle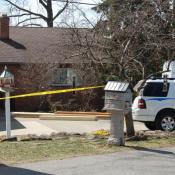 A police car and crime scene cleaning van sit outside of the Schobert residence in New Franklin, south of Akron.
Courtesy of Grant Engle
Download (WKSU Only)
In The Region:
An 18-year-old man has been charged in the murder of a prominent Akron attorney and his wife. Shawn Ford Jr., of Akron, has been accused of killing Jeffrey and Margaret Schobert in their New Franklin home. Police confirmed Ford was the boyfriend of Chelsea Schobert – Jeffrey and Margaret's daughter. Ford was already in custody at the Portage County Jail after his arrest Wednesday on an unrelated charge of obstruction of justice. Akron police officer Lt. Rick Edwards told reporters at a press conference the murder investigation is ongoing.
"The last 48 hours have been evolving very fast. We did get a suspect in custody from the physical evidence. There are a lot of questions we're still looking into and following up on. So, there's a lot of particulars in this case that we can't reveal at this time."
Investigators say a sledge hammer was used in the double homicide. The couple's bodies were discovered Tuesday, but police did have not released an estimated time of death.
---
---
---
Stories with Recent Comments