Loading...


Arts and Entertainment



Tuesday, April 9, 2013




World premiere tonight of "Calvin & Hobbes" documentary




Cleveland International Film Fest debuts "Dear Mr. Watterson" about the reclusive Chagrin Falls native and his best-known work


by WKSU's KABIR BHATIA


Reporter
Kabir Bhatia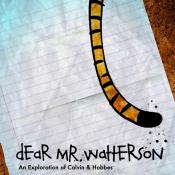 "Dear Mr. Watterson" attempts to gauge the impact of "Calvin & Hobbes," as well as the man-behind-the-ink, Chagrin Falls native Bill Watterson
Courtesy of Fingerprint Films
Download (WKSU Only)
In The Region:
Among the foreign films and indie dramas at the Cleveland International Film Festival, a documentary premiering tonight charts the legacy of Chagrin Falls native Bill Watterson, creator of "Calvin & Hobbes."
It was your usual snowy day when Calvin and Hobbes set off for sledding and adventure in the final edition of their comic strip. That was on New Year's Eve, 1995, yet their books continue to sell well.

"We still carry almost all the 'Calvin & Hobbes' books and sell them on quite a regular basis. He has a fan following in this area for sure."

That's Kate Schlademan, owner of The Learned Owl in Hudson. The store used to host book signings by Calvin & Hobbes author Bill Watterson when he lived in town.

"Every once in a while he would come in to sign books for us. But when he came in he would just go right up to the office and wouldn't talk to anyone. He did it all on his own."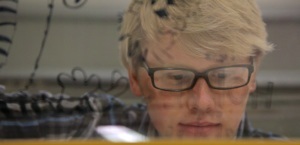 Respecting the medium
That was during Calvin & Hobbes' run from 1985 to 1995. Watterson has rarely granted interviews in the years since. The new documentary, Dear Mr. Watterson, tries to gauge the impact of its namesake. Director Joel Allen Schroeder grew up in Wisconsin as a fan of Watterson's work, and has several short subjects under his belt.

"He respected the medium he was working in and saw that it could be more than just a gag-a-day. 'Calvin & Hobbes' was a whole lot more complex than just a joke."

Famous Fans

The stories of a boy and his stuffed tiger touched Schroeder, as they did Seth Green. He's best-known for his work on the animated sitcoms "Family Guy" and "Robot Chicken," and in the film he talks about what made the comic strip different.

"'Calvin & Hobbes' is such a subversive comic. But it has a purity to it that most comics don't because it is so joyful. It's the imagination of this kid. And yet he is hyper-aware of world events and pop culture and ironies and social culture. And I just found that really, really exciting."

During "Calvin & Hobbes'" run, Watterson was outspoken about both the quality of -- and commerce behind -- the funny pages. After leaving quietly, on his own terms, he returned to Northeast Ohio.

The artist's rights

Years of rumors prompted Akron-based author James Renner – another huge fan – to attempt to interview Watterson in 2003.

"Ten years ago, I thought Watterson had a responsibility to share his genius with the public. As I've gotten older I've come to realize that privacy is important, but it's about the art. He didn't stop what he was doing. Some people have said he's single-handedly animating a 'Calvin & Hobbes' feature."

Trademark of quality
Since 1989, Watterson has maintained a low profile, even taking two sabbaticals from 'Calvin & Hobbes' before retiring it altogether. He granted a rare interview to the Plain Dealer in 2010, saying he ended the strip because he'd said everything he wanted to. That's one reason director Joel Allen Schroeder says the adventures of a boy and his tiger endure two decades later.

"Since he had such a respect for the medium, he didn't want to dilute 'Calvin & Hobbes' by letting it live on longer than it should have. So he moved on, made room for someone else to come along. The fact that we have (only) those 10 years of 'Calvin & Hobbes,' that's why we appreciate it so much."

Now playing
Schroeder partly funded 'Dear Mr. Watterson' through Kickstarter as a labor of love. The film features interviews with comic authorities such as Bill Amend, creator of 'Fox Trot,' and Berkeley Breathed of 'Bloom County.' It premieres tonight at 5:30 at the Cleveland International Film Festival at Tower City. It runs again on Wednesday at 7 & 10 p.m. at the Apollo Theater, and Thursday, April at 9:45 p.m. in Tower City.

See the trailer...


---
---
---
Stories with Recent Comments