Even in the best of circumstances, school levies are a hard-sell in Ohio. Especially new levies.
Medina City School District knows that well. It's fifth attempt at a levy is on the May 7 ballot.
Or, maybe not.
Yesterday, the board of education suspended Superintendent Randy Stepp with pay, pending the outcome of a state audit of a special account used to pay hundreds of thousands of dollars in his expenses. And tonight, it decides whether to keep the 5.9 mill emergency levy on the ballot.
Serving and trust
Karla Robinson is the board of education president. It was she who told Stepp to turn in his keys and credit cards and leave, she who handled most the questions at a press conference Monday afternoon. And as the room slowly cleared after the conference, it was she who outlined the dilemma over the levy.
"We need to serve kids. We're being squeezed by the state. The only way to get more revenue is to ask our local taxpayer to pay more. On the con side, we understand that the public is very concerned about our financial management practices. We understand that the public is very angry about some decisions that we have made and there is a lack of trust."
Front-porch campaigns
John Leatherman is a middle school teacher, head of the Medina City Teachers Association and one of those who has raised questions early and often about the spending.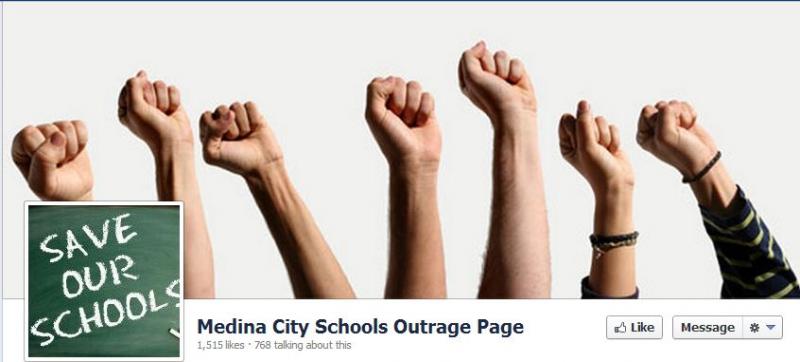 The union has provided much of the volunteer labor and no small amount of the money for previous levy campaigns.
Not this time.
"When I was asked by our board if the teachers would support it, I said, 'I just cannot ask them financially to support it with what's going on.' And as far as the door-to-door, it's not like we were the ones who mismanaged the money, but teachers would be hard-pressed to stand on somebody's front porch right now and knock on the door and say, 'Hey, I'm from Medina City Schools and we need your support on the levy.'"
After all, campaigning for this one would have forced his members to be on those porches explaining many decisions they've criticized including:
Why the school board signed open-ended deals with Stepp totaling as much as $400,000 in bonuses and other payments; what other expenses have been covered by that account; and even, why the district paid $20,000 to a crisis PR firm to help it answer those questions.
Without those questions, retired teacher Char Arthur would likely be on those porches. But even after hearing of Stepp's suspension, she's torn.
"I want the kids to have money for their programs, but I'm not comfortable with the ways things are right now. I would be fearful that is would be $1 for the schools and $2 for somebody else who's not supposed to get it."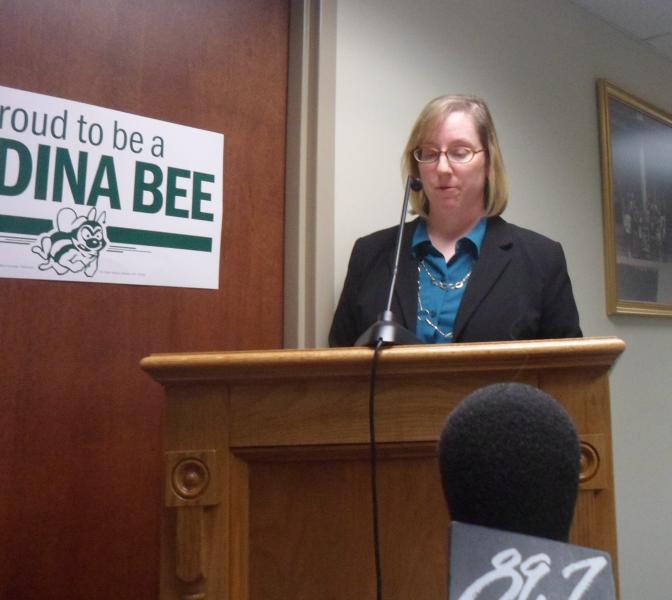 Assurances
Board President Karla Robinson says she needn't fear. "There is no one in Medina more committed to figuring this situation out and fixing it for the future than the four of us on this board."
Maybe not. But there are plenty of other people committed to getting answers, including the Medina Gazette and a Facebook page called "Medina City Schools Outrage" page.
They've been pressing for more information about contract amendments and other agreements – some retroactive – that gave Stepp an $83,000 signing bonus, covered some $265,000 in his old student loans and the cost of his MBA from Case Western Reserve University and potentially committed the board to paying Stepp's taxes on much of that.
Then there are other complications:
The money came from a little-watched account at the Medina County Educational Service's Center – not directly out of the Medina City Schools accounts. Stepp's tapped the account for other expenses including $550-a-night hotel rooms in Florida.
The school board took much of its action on the contracts at what were called "work sessions" – where action rarely happens.
Much of it was not fully reflected in the original minutes.
And most of it was happening in the midst of major budget cuts and at about the same time Medina's teachers were agreeing to a new contract with no raises and a hefty increase in health insurance premiums.
Andy Shea is 17, a Medina High School junior, and a non-voting member of the board. He watched the press conference and afterward said he's watched a series of cuts over the years that made Stepp's contract really stand out.
"Students have had nothing but things cut from them. So initially, as a student, my biggest issue was that it is a non-concessionary contract given to the guy at the top while the rest of the district has been taking concessions."
Shea says he's kind of surprised that, when the Medina teachers found out about Stepp's contracts, that they didn't do what their counterparts in Strongsville – just a dozen miles north – did: Reject the teachers' contract and walk out.
Withholding comment and qualified support
George Hudnutt is publisher of the Gazette, which has done a lot of the investigation of the contracts an spending. Hometown papers like his are often asked to endorse a levy. But the Gazette is sitting this one out. "I believe there's a few more issues, and auditing process that needs to happen before we could possibly endorse a levy."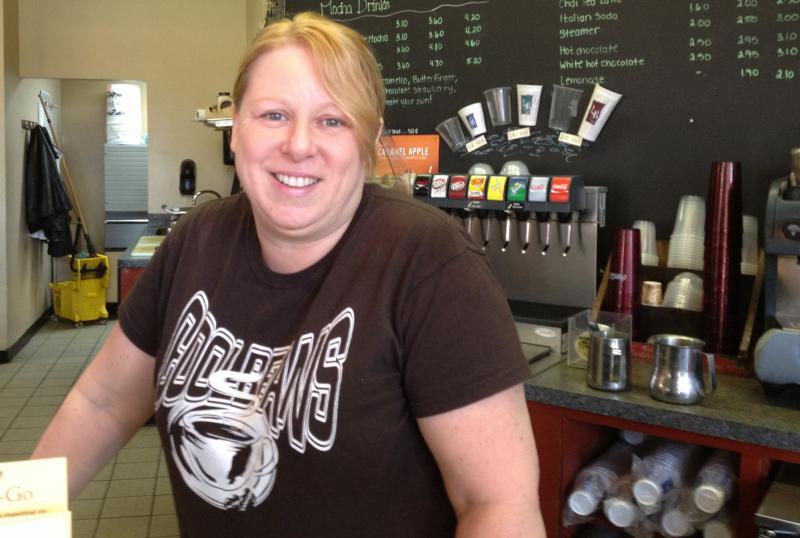 The levy isn't without supporters. Lisa Scott is on the morning shift at Cool Beans, one of the coffee shops huddled around the landmark square in Medina.
"At this point, I might actually vote for the levy because of the teachers making the concessions and making the sacrifices. And in my mind that's separate from what went on with Randy Stepp."
But she acknowledges there aren't many people in town who are making that separation.
Stepp has defended himself in a long email sent after he was suspended, saying everything in his contracts was transparent and negotiated. It read, in part, "I have served your children and I have served Medina with all my heart."
And Stepp has his supporters, even among those who question the wisdom of the contracts. Matt Anderson is one of them.
"I don't know as far as personal expenses on trips or of that nature. But I don't think the superintendent should have to apologize for anything contractual that was already agreed to. The fault should be with the board or those who negotiated with the superintendent."
That kind of support may be little comfort for Karla Robinson and the other Medina City Board of Education members who are trying to figure out if a levy they're sure they need has a chance of being passed.



HERE'S THE FULL E-MAIL from Medina Superintendent Randy Stepp following his paid-suspension Monday:
Dear Community,
Given the decision made today by the Medina City School District Board of Education to place me on paid administrative leave, I feel the time has come to set the record straight and address the growing number of inaccuracies surrounding my contract and its provisions, which have always been unanimously approved by the board.
I have not communicated with the community at large during these difficult times because I chose to take the high road. However, as a result of today's action by the board I cannot sit back and let things continue as they have. Many parents and others have encouraged me to provide additional context regarding my contract and the board's unanimous approval of its provisions over the years. I have given my heart and soul to this community and this district for the past 11years. I have served your children and I have served Medina with all my heart. To have things unfold as they have and without fair representation of the facts is very disheartening. In the interest of clarity and full understanding, I cannot stand by and let things continue unchecked.
In December 2012 future board president, Mr. Charles Freeman, approached me about staying on as superintendent of the Medina City School District. Mr. Freeman shared with me at that time that he was approaching me as a representative of the board. He also shared that the board was concerned that representatives from other school districts were soliciting me for superintendent openings. With the exception of my first contract, the practice of the board president serving as a representative of the board in contract negotiations with me has been standard during my tenure as superintendent. At this meeting in December 2012 Mr. Freeman essentially asked me what it would take to keep me in Medina. I told him that I would put a proposal together and present it to the board. On the morning of January 7, 2013 I submitted to the board a proposal for a new five-year contract. That evening the board voted unanimously to approve the contract with virtually no changes and very few questions.
The contract approved on January 7, 2013, and the previous one it replaced, included provisions to reimburse me for additional education that the board and I mutually agreed upon, which has included an MBA at the Weatherhead School at Case Western Reserve University. As my contract reads, "The Board shall reimburse the superintendent for any college coursework completed for the purpose of expanding his professional knowledge and skills or for keeping his license current, including tuition, fees, books and any other classroom materials required by the institution providing the service". As you can see, these education reimbursements were part of my contractual relationship with Medina City School District that was fully and unanimously approved by the board. I think it is also important to note that Mr. Freeman assisted me in the process of selecting the MBA program. Upon acceptance into the program at Case Western Reserve University then board president, Mr. Mark Dolan, signed off on the employer agreement.
As I stated in my communication to parents last week, I want to assure each of you that everything relating to my contract and education expense reimbursement was done in a transparent manner and in close consultation with the acting board president at the time, including the use of the Medina County Education Service Center (ESC) to cover the cost associated with the acquisition of past academic degrees. In 2011 then board president, Susan Vlcek, and I were communicating in person, via phone, and via email about an amendment to my 2009 contract. I included in house legal counsel, Mr. Jim Shields, on many of the communications. During those communications I clearly indicated to Mrs. Vlcek and Mr. Shields that I intended to use funds from the ESC to cover the costs associated with my past education. This was proposed not as a way to hide the expenditure, but as a way to avoid using general funds to cover those costs. I wanted to make sure that we were utilizing other resources before turning to general funds which support student programs. I even went as far as to suggest to Mrs. Vlcek that the language in my contract should indicate that the costs associated with the acquisition of past academic degrees would be paid for with funds from the ESC. I also provided her an approximation as to the amount to be covered. Our initial conversations began with the idea that we would engage in a new five-year contract. At that time we were also discussing the possibility of spreading the costs associated with the past academic degrees over five-years. When we learned that we could not engage in a new five-year contract the language that was agreed upon permitted coverage of the education costs at one time.
During these conversations I clearly communicated to Mrs. Vlcek and included the District's in house legal counsel, Mr. Shields, on the communication that indicated that the education costs that I sought to have covered included past academic degrees related to education, education administration, and educational leadership. These three degrees represent my Bachelor's, Master's and Doctorate. I had also shared that the payment would be made directly to the lending institution. The District's in house legal counsel, Mr. Shields, drafted the November 2011 contract amendment for the board agenda, which included the following language that was highlighted in red on the board documents attached to the agenda in order to bring attention to the modification, "The Board also agrees to pay the costs associated with the Superintendent's acquisition of past academic degrees as they relate to education". Again, the board unanimously approved the language and did not ask any questions about it of me. Because there were no questions it was my assumption that Mrs. Vlcek and/or Mr. Shields briefed the board on the meaning of the language. It is important to note that the language surrounding the coverage of education costs was discussed well in advance of the date that the board approved it and it was suggested by me that it be shared with the District's primary legal counsel.
There has also been much conversation regarding the use of Medina County Educational Service Center funds for professional development and costs associated with attendance at professional conferences. The District's practice of using ESC funds to cover costs for consultants and professional development predates my time as superintendent. During my time as superintendent we have used the ESC carryover funds for a number of items, some of which are directly related to student needs, while others relate to professional development. The use of funds for professional development is not specific only to me. ESC funds have been used to cover the professional development cost of others as well, including the District's in house legal counsel. Again, the intent was never to hide the use of the funds. The intent was to draw those funds down before opting to use general funds. Had this been a procedurally improper use of those funds we would have expected that the ESC's treasurer or the ESC's auditors would have indicated such.
I think it is important to note that had the ESC carryover funds not been available we would have still made the expenditures out of the district's general fund. We believed that the expenditure of funds for professional development was for good reason. The board has expressly indicated in my evaluations that they expect me to professionally develop our staff, which includes me. Besides the factors already mentioned, I believe that I was within my rights as outlined in my contract with the board to make these requests for expenditure.
It is also important to understand that we followed the guidance of the ESC's treasurer when using those funds. Never were we ever told that those funds could not be used for what we were requesting. When we submitted a purchase order or a request for payment we were asked for documentation of the expenditure and we provided it. Like the Medina City School District, the ESC is audited annually. At no time did the ESC's treasurer or its auditors ever indicate to us that how we were using carryover funds was procedurally improper. I think it is also important to note that the use of ESC funds is typically reviewed annually with the District's treasurer and superintendent and our ESC counterparts. I fully endorse the Board President Karla Robinson's leadership in asking the state auditor to review ESC expenditures. That is routinely done and is appropriate to be done again now.
My new contract, unanimously approved by the board in January, also provided an $83,000 retention incentive, which the board has acknowledged was aimed at retaining me as superintendent and incentivizing me to withdraw from consideration for employment opportunities with other school districts. As with other incentives in past contracts, there is a consequence attached to the incentive should I take another position and leave the district before the contract expires. I think it is important to note that retention incentives are becoming more and more common in superintendent contracts and I have upheld my end of the contract. Quite honestly, I agreed to a contract with my employer, the board of education, and find it somewhat unfair that I am still being criticized for fairly negotiating an employment agreement with my boss. I understand that some do not like the terms of the contract, but it was fairly negotiated and unanimously approved by the board.
Again, I regret that these circumstances have become such a passionate issue. Please know that everything around my contractual relationships have been openly discussed by me with the representative board president and unanimously approved by the representative board president and the board. I have documentation of the various communications I've referenced in this letter to back up what I am stating. I can't speak to the process the board has used over time to share information with each other, the district's legal counsel, or reach their conclusions. Only they can answer those questions. Those in the community with questions about the provisions of my contract should direct their inquiry to board members who have consistently and unanimously approved my contracts over the years.
Thank you very much for your continued support of our District and, most important, our students and all they are achieving as young women and men.
Sincerely,
Randy Stepp