Loading...


Arts and Entertainment



Friday, April 12, 2013




More than 20 Mr. Lincolns visit the Ohio Statehouse




The visit is part of a national convention of Lincoln impersonators




by WKSU's STATEHOUSE CORRESPONDENT BILL COHEN



Reporter
Bill Cohen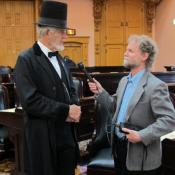 Long-time Ohio Public Radio reporter Bill Cohen speaks with Abe Lincoln (kind of).
Courtesy of KAREN KASLER
Download (WKSU Only)
In The Region:
About two dozen Abraham Lincolns visited the Ohio Legislature today. At least they all looked like the famous president.

The chamber of the Ohio House of Representatives was just one stop on a tour by participants in this year's national convention of Lincoln re-enactors. They all wore the traditional black suit and stove-pipe hat that Lincoln was known for. Statehouse correspondent Bill Cohen talked with a Lincoln re-enactor from North Carolina.
That's Chester Damron, one of about two dozen Abraham Lincoln impersonators, who visited the Ohio statehouse today. Accompanying them were a couple dozen women, also dressed in the style of the mid-1800's, and many of them portraying the president's wife, Mary Todd Lincoln.

The Lincoln impersonators attended a performance of "Our American Cousin," the play Lincoln was attending when he was assassinated on April 14, 1865. They also met with an impersonator of Confederate President Jefferson Davis.
---
---
---
Stories with Recent Comments