Loading...


Government and Politics



Monday, April 15, 2013




Cleveland City Council is still tweaking its new ward map




Tonight's vote includes changes that boost Hispanic voters in one ward and reduce changes to downtown's ward


by WKSU's KEVIN NIEDERMIER


Reporter
Kevin Niedermier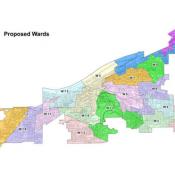 Map of Cleveland's revised wards that city council approved last month.
Courtesy of City of Cleveland
Download (WKSU Only)
In The Region:
Cleveland City Council will take a second vote tonight on ward map changes that have been controversial.

Last month, council approved the first map revision by a vote of 17 to 2. vote. But complaints from the city's Hispanic community prompted further changes.

Community leader Jose Feliciano says the first redistricting cut the city's largest Hispanic voting block in two. The 14th ward was originally redrawn to include 37 percent Hispanic voters. That's been changed to include nearly 40 percent but Feliciano wants 50 percent Hispanic voters in that ward.

He's considering suing the city, accusing it of violating the Voting Rights Act if that percentage isn't reached. Feliciano has started the process by requesting information on the redistricting process from the City Council.
"We would like to see all of the maps, emails and other correspondence that related to this redistricting process. Once we get that, we'll be in a position to make a reasoned judgment on whether or not to go ahead with the litigation."
Feliciano says 10 percent of Cleveland's population is Hispanic, but the city has no Hispanic council members. Sources at city hall say more ward adjustments could be made before tonight's vote.

City Council is required to reduce its wards from 19 to 17 because of population loss.
---
---
---
Stories with Recent Comments