Loading...


Government and Politics



Wednesday, April 17, 2013




Cleveland Council approves another new ward map, but concerns linger




Today's map increases an Hispanic voting block, but a Voting Rights suit may still be filed


by WKSU's KEVIN NIEDERMIER


Reporter
Kevin Niedermier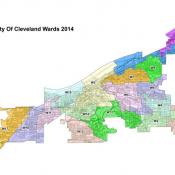 Cleveland's newest council ward map approved by city council today. A redrawn map was approved last month, but concerns from Hispanic residents prompted a redraw of the westside's 14th District..
Courtesy of City of Cleveland
Download (WKSU Only)
In The Region:
Cleveland City Council this morning approved another new ward map.

The version it approved last month proved controversial, and so is this one. This revision increases the number of Hispanic voters in a ward that was cut in two in the first version. But as WKSU's Kevin Niedermier reports, the newest map may not offer enough to prevent a lawsuit.
Council approved the tweaked map by a 14-to-4 vote, two more 'no' votes than in the first round. The additional dissenting votes came from council members who say their constituents are upset because Council President Martin Sweeney redrew the map without enough public input.

The newest map raises the 14th District's Hispanic population from 39.6 percent to nearly 41.5 percent. But the head of Cleveland's Hispanic Roundtable, Jose Feliciano, is still not pleased with that number, which he says should be 50 percent. So, he's not backing off his threat to sue the city for a possible Voting Rights Act violation.

Feliciano says two records requests he's submitted to the city for information on which a suit could be based haven't yielded much.
"E-mails from two years ago and some ward maps without demographic information. So from that, I can't see how many Hispanics were in each ward."

He says, under Ohio's public records law, the Hispanic Roundtable should have had access to the information before the council vote.

The old 14th District was the city's largest Hispanic voting block before the redistricting. City Council must reduce its members from 19 to 17 because of population loss across the city.
---
---
---
Stories with Recent Comments