Loading...


Sports



Thursday, April 18, 2013




Cavs fire coach Byron Scott




General manager says coaching search starts now




by WKSU's OZIE IKUENOBE


Reporter
Ozie Ikuenobe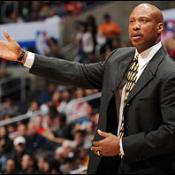 Scott posted a .278 average over three seasons with an injury-plagued, LeBron-less squad
Download (WKSU Only)
In The Region:
At a press conference today, Cleveland Cavaliers GM Chris Grant said the decision to fire head Coach Byron Scott was personally and professionally difficult.

He says it was the result of not enough progress being made defensively during the last three years. Grant says that the team will start looking for a new coach later today.
"Moving forward, we look for somebody that has a proven defensive system. Someone who's had a high level of success. Somebody that's a teacher, somebody that's a worker and someone that has strong leadership capabilities."

Grant said that when he notified Scott of the news, he acted as a true professional. Scott became the team's 18th coach in 2010, just days before LeBron James left the team for Miami. In the past three seasons, the Cavs won just 28 percent of their games and were plagued with injuries and a lockout in 2011.
---
---
---
Stories with Recent Comments