A Republican and a Democrat walked into a room. And that was enough to draw more than 50 people, media attention and a lot of accolades.
That's because the Republican and Democrat are Jim Renacci and John Carney, freshman class of 2011 in what's largely regarded as one of the most deeply divided Congresses in U.S. history.
They have breakfast together, regularly -- and now, with nearly 20 other members of Congress who say they need to get something done.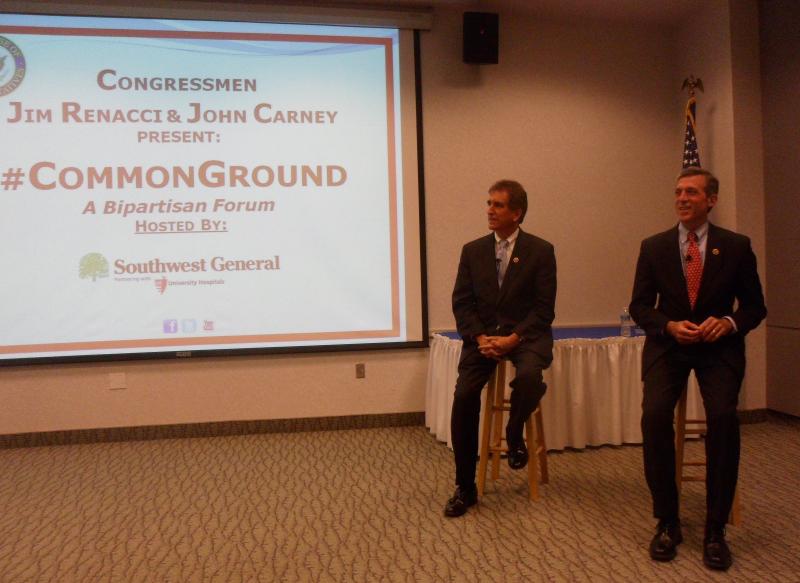 Burying the hatchet
Carney told the audience at Southwest General that's a tradition in his state, Delaware, with a population so small its two U.S. Senators outnumber the lone congressman, and with a history that makes bipartisanship a ritual – at least the Thursdays after the general elections.
"The winners and the losers come together. … They ride around in horse-drawn carriages. (And) we have a ceremony where we actually bury a hatchet," he said, complete with political parties putting a hatchet in a box, and pouring Dewey Beach sand on top of it.
Ohio's not quite as colorful. But the 16th District that Renacci represents has proved to be pretty bipartisan over the years. the lines have been redrawn, but when he was first elected in 2010, the district still pretty much followed the boundaries that had kept the seat in Republican hands for decades – while representing a large number of Democrats.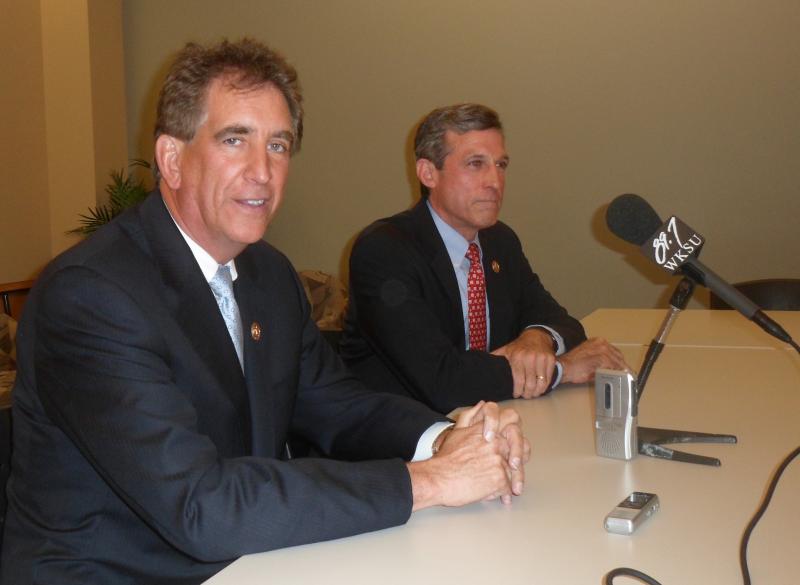 The two freshmen, Renacci and Carney, ended up on the Financial Services Committee.
"And one day," recalled Renacci, "he came walking over to me and he said, 'You know, it seems like you want to get things done and I want to do the same."
From veterans to budgets
A breakfast between them has grown into a regular breakfast among roughly 20 Democrats and Republicans.
Gathered with reporters before their forum, Renacci and Carney talked about range of issues they've tried to address – from drug shortages to veterans services to the budgets – through the bipartisan working group
They had just flown in together from D. C., the same day Renacci reintroduced the "Budget Process Improvement Act." The power-point read on the act is that Congress should take a longer view by adopting a two-year budget instead of one.
"Each Congress is for two years. So if we're going to go through the budget process, which does take some time, we're saying let's do it for a two-year period because it's the same Congress working together. One of the problems today, we do it one year, and then we turn around and do it again."
Then Carney cut in.
"Well the other problem is, we don't do it. We don't get it done" at all.
What about health care?
Perhaps because of the setting, most of the questions when the two spoke to the Southwest General audience were about one of the most divisive issues in D.C. – and the country: healthcare.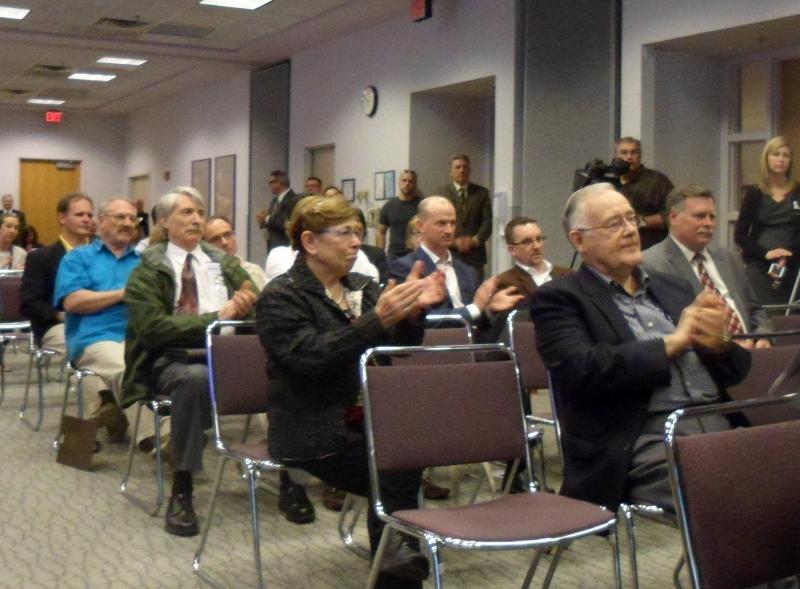 And Renacci and Carney had their differences— though played out amicably and with each acknowledging lots of gray areas.
Several questions suggested that consumer-controlled health savings accounts, rather than insurance, would limit healthcare costs because people would know what they spend.
Renacci responded with the story of a visit to the dentist, where a first test was followed by a second.
"And I said, 'Do I need that? And they said, 'Well, it doesn't matter, the card pays for it,'" Renacci said. "If he would have said, 'The first procedure will cost you $200; the second procedure costs you $500,' I probably would have said, 'I'm not going to do the second procedure.'
Renacci maintained that even if people have to make small contributions toward their health bills they're likely to pay closer attention to controlling those bills, though he insisted there must be a safety net.
Carney said concerns about costs could lead some people to put off needed tests and treatments for fear of breaking their personal health-care bank.
And he maintained that controlling costs requires a multifaceted approach.
"Some of the things that we've been doing with stents and statins and prevention and not smoking is having an effect. … Prevention works and pays off in the long term. (And overall), it's going to be a reform that we've got to stay on over a long period of time."
Neither Carney nor Renacci were in Congress when the Affordable Care Act passed, but Renacci has been a strong critic. After the session, he said healthcare is again becoming the No. 1 concern he hears in the 16thDistrict because of uncertainty over its implementation.
Thursday's forum marked the first time one member of the bipartisan working group flew to the home district of another, but likely not the last. Renacci and Carney said other members of the group are watching to see how it went and to see if it is something they want to try.