Loading...


Education



Friday, April 19, 2013




Strongsville teachers suspend picketing ahead of negotiation




Blood drive today replaces picket signs; teachers await response to new offer


by WKSU's KABIR BHATIA


Reporter
Kabir Bhatia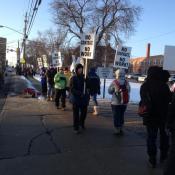 On the strike's first day, teachers manned picket lines as largely empty buses pulled into school parking lots this morning.
Courtesy of M.L. Schultze
Download (WKSU Only)
In The Region:
A federal mediator has called together both sides in the Strongsville teachers' strike Sunday afternoon, and the teachers have called off picketing until then. WKSU's Kabir Bhatia reports.
The Strongsville teachers' strike could enter its eighth week on Monday, but teachers' union President Tracy Linscott hopes it doesn't have to.
"We suspended picketing today in hopes that today will be our last day. And Monday we'd be back in the classroom."
The teachers opted for a blood drive instead of picket signs today.
Nearly 400 teachers went on strike March 4 over contract issues such as pay freezes, medical benefits and the structuring of pension payments.
The school district had cited a looming $6 million budget hole. But last Sunday, the board made a new offer, citing a previously unknown surplus of $3.2 million. The teachers countered on Monday, and Linscott says they haven't heard back.
---
---
---
Stories with Recent Comments