Loading...


Sports



Friday, April 19, 2013




Browns owner Haslam allegedly knew about fraud




Browns owner Jimmy Haslam investigated over alleged gas-rebate scheme at his company, Pilot Flying J




by WKSU's GRANT ENGLE


Reporter
Grant Engle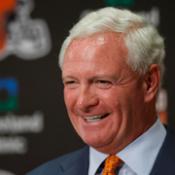 The offices of Pilot Flying J truck stops were raided earlier this week; the company is owned by Cleveland Browns' owner Jimmy Haslam
Courtesy of The Plain Dealer
Download (WKSU Only)
In The Region:
Employees of Pilot Flying J say Browns owner Jimmy Haslam not only knew about the company short-changing trucking companies – but he encouraged it.

The U.S. District Court in Knoxville, Tenn., released an affidavit Thursday with high-ranking Pilot Flying J employees explaining how to reduce gas rebate payments to trucking companies.

Knoxville-based FBI spokesman Marshall Stone says the bureau will not comment on the affidavit, and there is no estimated time frame for if or when arrests will be made.
"These types of investigations do take some time to complete due to the volume of information that we have to evaluate."

The affidavit includes one exchange between an informant and Pilot Flying J Vice President of Sales John Freeman. When asked if Haslam knew about short-changing a specific trucking company on rebates -- referred to as "cost-plussing" by employees -- Freeman did not hold back.

"I mean, he (Haslam) knew all along I was cost-plussin' the guy," Freeman told the informant. "He knew it all along. Loved it. We were makin' $450,000 a month on him. Why wouldn't he love it?"

Haslam released a statement Thursday that he would continue to cooperate with the federal investigation.
---
---
---
Stories with Recent Comments