Loading...


Ohio



Monday, April 22, 2013




Emergency drill on Tuesday at Progressive Field




Indians say it is not a response to Boston Marathon bombing


by WKSU's KEVIN NIEDERMIER


Reporter
Kevin Niedermier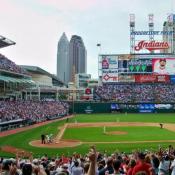 Tuesday's fireworks will not be for a homerun, but rather part of an emergency drill for city and county agencies
Courtesy of Amanda Rabinowitz
Download (WKSU Only)
In The Region:
The explosions you'll hear tomorrow at Cleveland's Progressive Field will not be fireworks celebrating an Indians' homerun.

The city of Cleveland will be using the stadium to conduct a full-scale emergency response drill. It's an opportunity for the city, Cuyahoga County and other emergency response agencies to hone their skills in the event of a major natural or man-made disaster.

Indians spokesman Curtis Danburg says it's also a chance for many other organizations to improve their crisis management plans.
"It's not just about the Indians and Progressive. It's really an opportunity for Major League Baseball, as well as other institutions in Cleveland, to really see what happens with us so they can prepare themselves at their buildings and institutions."

The drill will begin at about 10:30 tomorrow morning. Danburg says planning has been underway for six months and is not a response to the Boston Marathon bombings.

Last fall, the city held an emergency response drill at Cleveland Hopkins International Airport. A similar drill was held at the ballpark in 2001 following the 9/11 terrorist attacks.


---
---
---
Stories with Recent Comments