Loading...


Economy and Business



Monday, April 22, 2013




Innerbelt bridge project is trying to stay green




Saved 22 million gallons of water -- enough to take a shower lasting 2,859 days


by WKSU's KABIR BHATIA


Reporter
Kabir Bhatia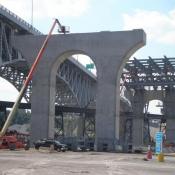 After the eastbound bridge is completed this year, the existing I-90 bridge, built in 1959, will come down, and construction on a westbound bridge will begin
Courtesy of K. Bhatia
Download (WKSU Only)
In The Region:
Half of Cleveland's Innerbelt bridge project is slated for completion this fall, and the Ohio Department of Transportation has kept sustainability in mind for the three-year project.

At EarthFest in Berea over the weekend, ODOT spokeswoman Amanda Lee said recycling material into other construction projects has saved 5 million pounds of steel, as well as enough diesel to send a semi from Cleveland to Salt Lake City and back -- 123 times.
"They really took a big effort in making sure they could do a lot of sustainability things. They're also recycling steel and waste. They'll re-use what they can, grind it up, use it again -- or take the rebar to another project."

Lee points out that the I-90 bridge project has re-used twice as much concrete as was used to build FirstEnergy stadium, home of the Cleveland Browns. When the first bridge is finished this year, it will serve east- and west-bound traffic while the old bridge is demolished. A second bridge will be built by 2016, at which point each new structure will serve a single direction of traffic.
---
---
---
Stories with Recent Comments