Loading...


Economy and Business



Monday, April 22, 2013




Sequester hasn't had a big impact on Cleveland Hopkins yet




Bigger airports are seeing more flight delays, and that is expected to tie up Cleveland and other smaller airports


by WKSU's KEVIN NIEDERMIER


Reporter
Kevin Niedermier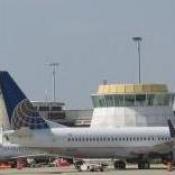 Only a few flights have been delayed at Cleveland Hopkins Airport since air traffic controllers and other personnel were furloughed because of the sequester. sequester
Courtesy of Kevin Niedermier
Download (WKSU Only)
In The Region:
So far, Northeast Ohio's major airports are not reporting significant delays following the sequester-related furloughs that started Sunday. But, the layoffs of air traffic controllers and other personnel because of the federal budget cuts are causing long delays at bigger airports across the country.

Cleveland Hopkins Airport spokeswoman Jackie Mayo says Hopkins has had just a few two-hour delays so far.

Cleveland has lost the equivalent of one of its 20 air traffic controllers to furloughs forced by the sequester. Mayo says harder hits at the larger airports are also trickling down to Hopkins.
"On average, they move 200 or more planes an hour while we only move about 56. For us, the impact of the furloughs will come from the bigger airports (like Chicago and New York) which will experience three- or four-hour delays."
Mayo says the delays at Hopkins could get longer as the sequester continues. Meanwhile, she says travelers should plan for longer waits at most airports. So far, officials at the Akron-Canton Airport say they have not had any sequester-related delays.
---
---
---
Stories with Recent Comments