Loading...



From WKYC.COM / TV 3
Get the latest school closings and delays


Funding for WKSU is made possible in part through support from the following businesses and organizations.
---
For more information on how your company or organization can support WKSU, download the WKSU Media Kit.

(WKSU Media Kit


)
---

Science and Technology



Tuesday, April 23, 2013




Ohio lawmakers debate a state ban on red-light cameras




Defenders argue they save lives




by WKSU's STATEHOUSE CORRESPONDENT BILL COHEN



Reporter
Bill Cohen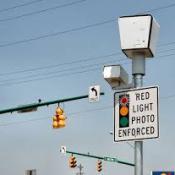 Red-light cameras issue tickets without a police officer being present.
Courtesy of Wikimedia Commons
Download (WKSU Only)
In The Region:
More than a dozen Ohio cities have installed traffic cameras to catch speeders and drivers who run red lights. Some motorists are angry over the tickets they've received, and they're pushing Ohio lawmakers to ban the cameras. The Ohio House Public Safety Committee is holding hearings on the proposal. Statehouse correspondent Bill Cohen reports the most recent hearing featured advocates of the cameras.
---
---