Loading...


Education



Tuesday, April 23, 2013




The prairies burn at Kent State (on purpose)




Officials use the fire to revive the natural prairie grass and eliminate invasive species


by WKSU's MARK URYCKI


Reporter
Mark Urycki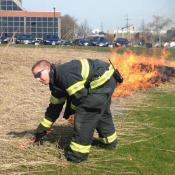 Kent firefighters lit the controlled burn on Kent State's campus
Courtesy of Mark Urycki
Download (WKSU Only)
In The Region:
You don't often see an Ohio college campus on fire but that's what it looked like at Kent State University today. Smoke and flames were leaping into the air near the main campus Recreation and Wellness Center. Firefighters were using flares to set the fields ablaze. The manager of university grounds, Heather White, explained to WKSU's Mark Urycki what they were doing.
Heather White says the school has been making controlled burns of its prairie land for more than a decade. Its results mimic that of lightning-caused fires and trampling by herds of buffalo.
---
---
---
Stories with Recent Comments