It's unwise to ignore the glass-blowing teacher at the Peninsula Art Academy when he's moving quickly towards you with a long, black metal tube.

"Stand back! Watch out! Be careful!"
The blazing hot tip of Bob Pozarski's blowpipe is usually coated with a blob of molten glass.
Pozarski teaches all-day beginners' workshops for aspiring glass artists. All students leave with at least a shiny, colorful glass paperweight of their own design.
The academy's glass-art exhibition closing this weekend features much more complex works by prominent artists working in the region.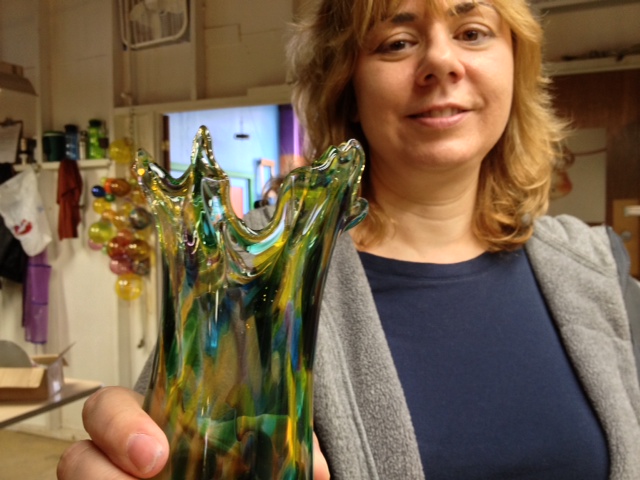 Pozarski is hoping it'll fire up enthusiasm in his students to continue pursuing a challenging art form.
Hot work in a challenging medium
Results can be spectacular but Pozarski says the process of shaping glass can be intimidating. You're working at temperatures above 1400 degrees.
Pozarski calls his studio the "hot shop." He avoids it in summer. It's small and filled with high-temperature equipment. There's an annealing oven, a re-heating furnace that runs on propane, and a furnace that looks like a pottery kiln except for the big pot of molten glass inside.
"The students back up right away when we open the lid to this," says Pozarski.
He taught at the former Steinert Glass School in Kent before coming over to the Peninsula Art Academy in 2006. He's better-known for the Tiffany-style stained glass windows he's made for nearly four decades.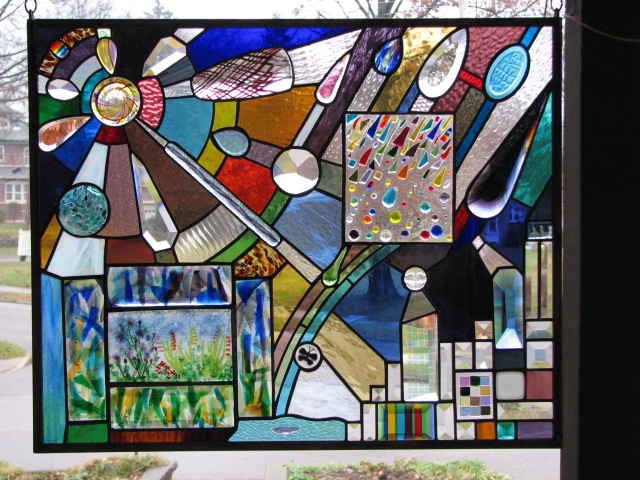 A collaboration blown and fused
Today Pozarski's collaborating with fellow instructor Marianne Hite, who specializes in glass fusing.
"It's similar to stained glass where you're taking layers of glass and you're putting them in a kiln. It's a two-dimensional work where you're laying down layers of colored glass on top of each other with imagery maybe embedded in between."
Hite studied enameling on metal and copper at Kent State but gravitated toward glass. She's known for her butterflies at Stan Hywet and her nature-themed lamps, jewelry, and decorative pieces, especially the 36-foot wall-hanging that cheers up patients and their parents at Akron Children's Hospital.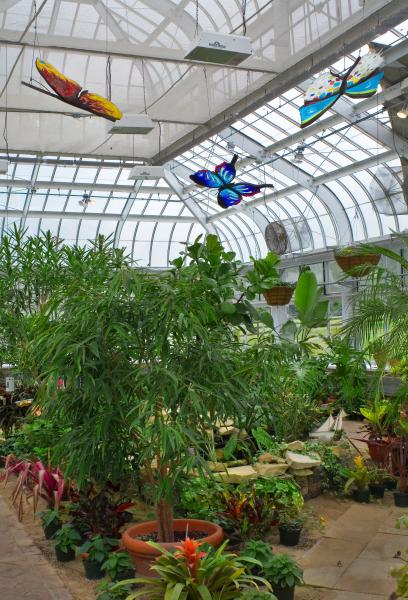 Hite often embeds photographic images, seeds, beads and shells in fused glass.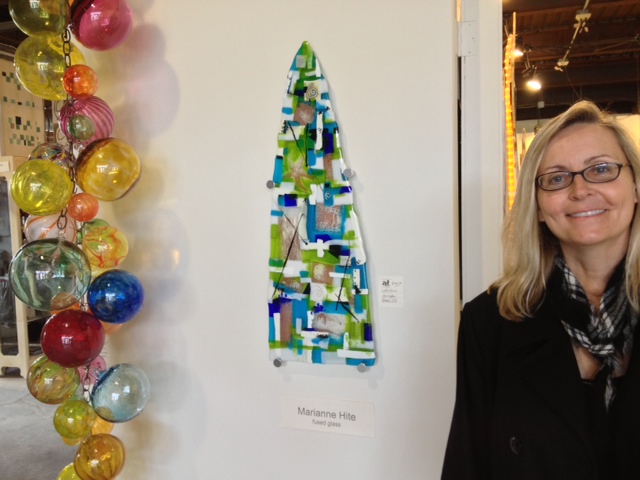 "I like to use foils and mica and silver wire and different things like that in my work."
Heating, blowing and cooling
Hite created four fused-glass tiles with images of mermaids and silver fishes in a pottery mold that Bob Pozarski prepared. They've pre-heated the tiles to 1,000 degrees for the next stage in the process.
"What I'm going to do is start a bubble out of clear glass. After that gets hard I'm going to dip it again in molten glass, which is very sticky. I'm going to stuff it into this rectangular mold and pick up the tiles that Marianne made."
He heats the tip of the blowpipe until it's cherry-red, then lofts it over to the furnace and pokes it into a pool of molten glass.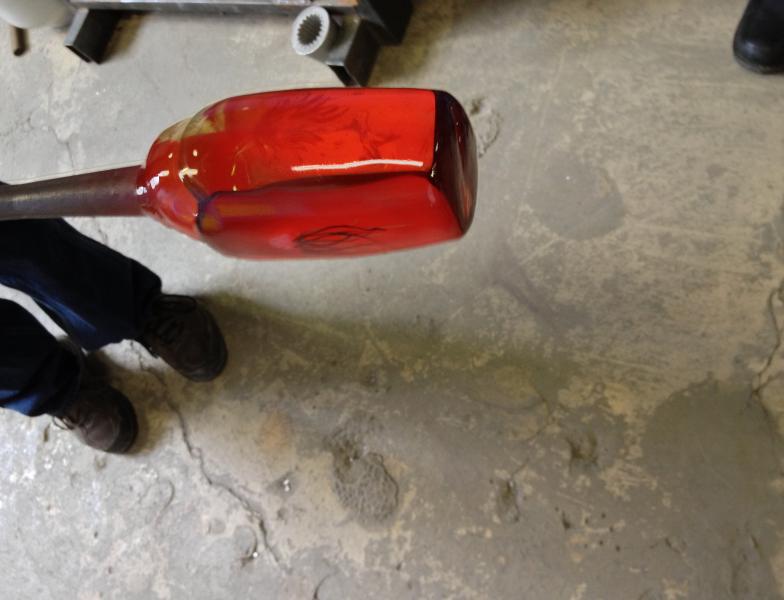 "So I rotate the blowing pipe in the glass. It's like winding up a little dab of honey."
He backs away from the heat of the furnace and pivots as he lifts the tube to a metal table called a marver. Then he twists the pipe, rolling the blob of glass back and forth over the tabletop.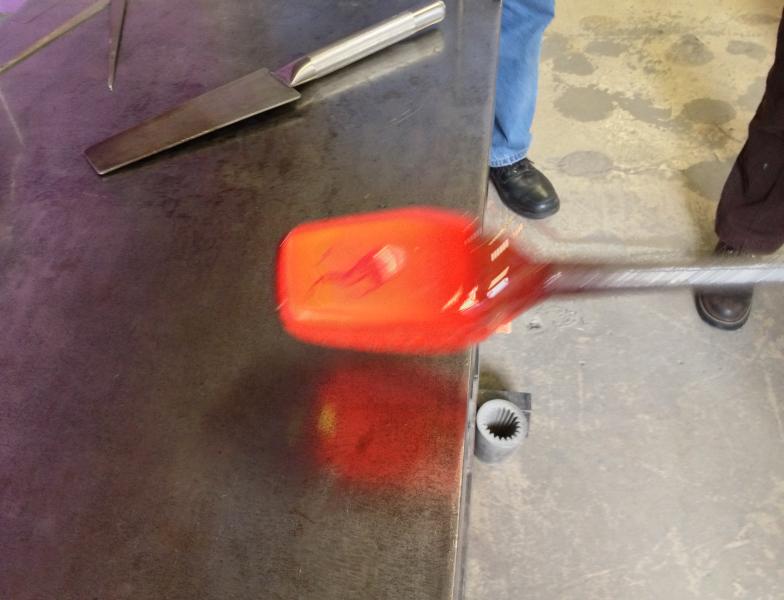 "That cools the glass and shapes it. When I think it's the right temperature I'm going to blow a bubble."
The blowpipe is a metal tube about 6-feet long and an inch in diameter. It's rigid but light enough to lift easily to his lips several times.
He says it doesn't require much lung power.
"It's very easy to blow," he says. "If you get the glass soft enough or hot enough, it's soft like bubble gum."
Observe and learn
Pozarski is gracious with spectators, but he says most glass blowers prefer to work in private.
"The work is very demanding. I actually do mess up because I'm turning around and answering a question instead of paying attention to my glass, which is dripping towards the floor."
Pozarski's studio at Peninsula Art Academy can accommodate only four students at a time for an all-day workshop. The cost is $110 and you learn how to dip the glass, shape it and add colors.
While window-shopping one day in Peninsula, Sherry Lesak-Gordon of Eastlake got a glimpse of the glass-blowing and signed up for the next class.
"It's a lot harder than I thought it would be, because I think physically you're constantly moving around and doing things. But I did really, really enjoy it."
To enjoy the glass art exhibition, you'll have to hustle. "Hot and Warm in Peninsula" closes Sunday.
But the Peninsula Art Academy has another juried show titled "Ebb and Flow" opening May 18th. It will showcase the work of all of its members and celebrate the Cuyahoga watershed as part of the Friends of the Crooked River's 23rd Annual River Day.