Loading...


Government and Politics



Wednesday, April 24, 2013




New bill targets banks that are 'too big to fail'




Sen. Sherrod Brown wants megabanks to keep a 15 percent safety net, instead of relying on taxpayer bailouts


by WKSU's MARK URYCKI


Reporter
Mark Urycki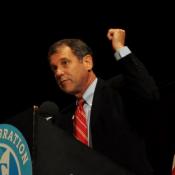 Sen. Sherrod Brown and Louisiana Republican David Vitter wants large and medium-sized banks to maintain capital so they can bail themselves out. Small banks would not be restricted, and would even have some regulations eliminated
Courtesy of Mark Urycki
Download (WKSU Only)
In The Region:
Ohio's U.S. Sen. Sherrod Brown is sponsoring a bill that target banks considered "too big to fail." The Ohio Democrat joined with Louisiana Republican David Vitter to introduce a requirement that the largest banks maintain a capital worth of 15 percent of its assets as a backstop, rather than rely on a taxpayer bailout.

Brown says the implicit support by taxpayers gives the mega-banks an unfair advantage and they are even larger now than in 2008.
"By 2009, despite the recession, the top six banks had grown from fewer than 20 percent of U.S. GDP to more than 60 percent," he said. "This growth was built on the perception that these banks aren't just backed by their investors. They're also backed by American taxpayers.

"The market knows that the government won't allow these big banks to fail, ... (so) they can make riskier investments and lend money at a lower rate than regional banks and credit unions."

Smaller, regional banks, like Key Bank and Huntington, would have to keep 8 percent of their assets.The smallest l banks would not be restricted, and in fact would have some current regulations eliminated.



---
---
---
Stories with Recent Comments