Loading...


Government and Politics



Thursday, April 25, 2013




Election for Ohio's Republican Party chairman is coming tomorrow




GOP Executive Director Matt Borges clears up tax liens; challenger and Portage County Tea Party chief Tom Zawistowski loses his call for a debate before the vote


by WKSU's KABIR BHATIA


Reporter
Kabir Bhatia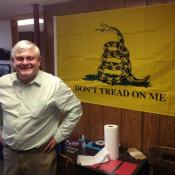 Tom Zawistowski of the Portage County Tea Party says he is the only one who can unite the state's Republicans
Courtesy of K. Bhatia
Download (WKSU Only)
In The Region:
The vote is tomorrow for Ohio Republican Party chairman, and one of the contenders is trying to clear up what he calls a disagreement over back taxes. WKSU's Kabir Bhatia reports.
Outgoing Chairman Bob Bennett's hand-picked successor, party Executive Director Matthew Borges, says he withheld years of tax payments to prevent the money from going toward a disputed tax lien related to a 2007 home sale.

Borges says once that disagreement was resolved, he was able to pay more than $24,000 in state taxes from personal funds. Ahead of Friday's vote, he also planned to pay about $124,000 in federal tax liens.

Several Republican state officials say they weren't aware of the liens before backing Borges for chairman.

His challenger, Tom Zawistowski, is head of the Portage County Tea Party. He's been critical of Borges' tax problems, and also of his ability to unite the party ahead of the 2014 gubernatorial election. Zawistowski had challenged Borges to a debate to take place Thursday, but was told by the party that instead each candidate will have 10 minutes to address the committee just before the vote on Friday morning.
---
---
---
Stories with Recent Comments