Loading...


People



Thursday, April 25, 2013




Former Ohio Cub Scout leader launches petition to allow gay scouts




The Boy Scouts of America has proposed end the ban on gay boy scout members, but not leaders -- and a former den mother says that's not enough




by WKSU's OZIE IKUENOBE


Reporter
Ozie Ikuenobe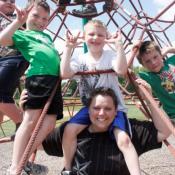 Jennifer Tyrrell had hoped her son Cruz (on shoulders) would one day become an Eagle Scout. Instead, he's out of the program altogether.
Courtesy of Amanda Rabinowitz
Download (WKSU Only)
In The Region:
The former Cub Scout den mother who was fired for being a lesbian is pressuring the Boy Scouts to reinstate her. Last week, the Boy Scouts of America proposed a resolution to end the ban on gay scouts, though not on adults who wish to be leaders.
Southeast Ohio's Jennifer Tyrrell is gathering signatures for a petition that urges the scouts to end its ban on gay leaders and parents, as well. Tyrell says that the Boy Scouts' stance is confusing for current members and people who want to join.
"I don't think that traditional values necessarily should include discrimination and bigotry," she says. She says it's a dangerous message for young people that families like hers aren't "traditional" or "normal."

Tyrell says that the Boy Scouts have always been slow to accept change. The group did not allow women to serve as scoutmasters until 1988 and allowed racially segregated troops up until 1974.
She says that it's only a matter of time before the Boy Scouts changes its stance on gay scout leaders. The national organization will vote on lifting the ban of gay scouts next month.
---
---
---
Stories with Recent Comments