Loading...


Education



Monday, April 29, 2013




Strongsville teachers and kids are heading back in class




Eight-week strike is over; no school today as teachers and administrators hold transitional meetings


by WKSU's KABIR BHATIA


Reporter
Kabir Bhatia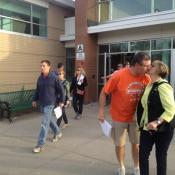 Happy teachers left Strongsville High School Saturday evening after "overwhelmingly" approving a new contract
Courtesy of K. Bhatia
Download (WKSU Only)
In The Region:
Strongsville students will be back in the classroom with their regular teachers beginning Tuesday – for the first time in eight weeks. This weekend, both the teachers' union and school board ratified a new three-year contract. And now, both sides say, it's time for healing. WKSU's Kabir Bhatia reports.
The happy people exiting Strongsville High School on Saturday weren't graduating seniors – they were teachers who had just overwhelmingly voted to approve a new contract with the Strongsville City School District. They'd walked out on March 4 after the school board made what it called its last, best contract offer in negotiations that began last June.

Time for healing
After Saturday's vote, teachers' union president Tracy Linscott said she never wanted to be out this long.


"It was probably the hardest time in all of our lives," she said. "We gave up our salaries for eight weeks and are happy about the agreement. We look forward to the process of healing."

Her comments were echoed by Superintendent John Krupinski Sunday morning, after the school board unanimously ratified the contract.

"I'm glad it happened and we have our team back together again. This strike has been very divisive for this community; I'm a resident. And it's time to begin the healing process."

Follow the money
The district had originally cited a looming $6 million budget hole as the reason it could not budge from an offer that included pay freezes and higher health insurance costs in March.

But the discovery of $3.2 million in extra tax revenues prompted a new offer two weeks ago.

The final deal includes the teachers paying more for medical benefits. But it also includes the teachers getting graduated increases over the next two years based on seniority and education. And the schools are re-structuring pension payments by the district.

In one of their interim proposals, the teachers had offered to extend the class day and wanted caps on class sizes. The new contract, which is retroactive to last August and runs through June, 2015, includes neither.

Return to normalcy
Many of the students in those classes, like senior Adam Pochatek, are happy things will soon be back to normal. He's looking forward to a regular commencement and prom.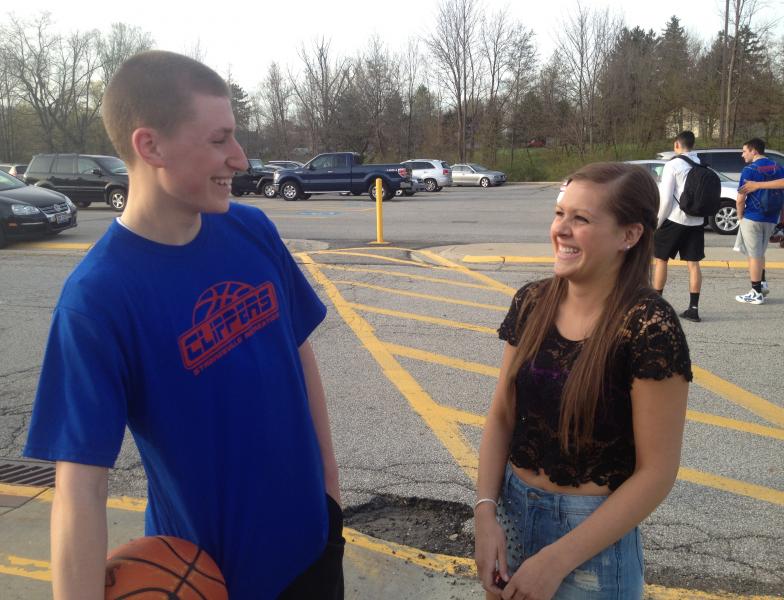 "I'm happy that the teachers are going to be able to be there, because some I grew really close with over four years and I'd like to see them there."

But he and his prom date, senior Liz Wicker, say their education has still been affected.

"For English, we didn't write our big research paper," she said. "So I don't know if I'm going to have to do that or not."

Pochatek is also worried about his upcoming AP tests.

"There's a big impact on the AP tests. My AP score is going to suffer."

At the other end of the school spectrum, second-grader Raven Nichols says she's glad she didn't have any homework for eight weeks, but she "missed my teacher. It was sad. All the kids were crying because they miss their teachers."

She says the first thing she will do in school on Tuesday is hug her teacher.

Strongsville schools are closed today for transitional meetings. Tonight's Senior Awards assembly will go on as planned, and so will other previously scheduled activities. Ohio assessment tests, which began last week, will resume on Wednesday.
---
---
---
Stories with Recent Comments