Loading...


Government and Politics



Monday, April 29, 2013




School cafeterias would serve fresher local foods under pending legislation




Ohio's U.S. Sen. Brown's bill lowers federal obstacles to locally grown produce in schools


by WKSU's KEVIN NIEDERMIER


Reporter
Kevin Niedermier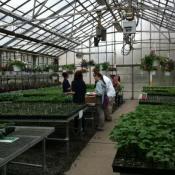 Students working at Cleveland's Washington Park High School greenhouse. The horticulture skills they're learning could increase in demand under a pending federal farm bill.
Courtesy of Kevin Niedermier
Download (WKSU Only)
In The Region:
An effort is underway to help smaller farms get more of the food they produce into their local school cafeterias. Ohio's U.S. Sen. Sherrod Brown says his "Local Farms, Food, and Jobs Act" will make it easier to bypass federal regulations that keep fresh produce off many school menus.

Cleveland's Washington Park High School is a working greenhouse complex that teaches students about horticulture. And it was the backdrop today for Sen. Brown to push his bill, which he says would reduce federal regulations that favor serving USDA commodities in schools.

"It would support efforts to increase the portion of the school's food dollar to buy directly from farmers," Brown said. "It would matter for nutrition and cooking and getting young people exposed to foods they might not see much of if they live in a food desert."

Cleveland schools recently received $45,000 from the U.S. Department of Agriculture's "Farm to School" program. That money helps schools bring more locally produced food into their cafeterias.

Brown first introduced his bill in 2011 as part of the larger federal farm bill that the House did not pass. He reintroduced it in the Senate earlier this month. The bill would also help small- and medium-sized farms build the infrastructure to produce and distribute fresh produce in their local markets and create jobs.

---
---
---
Stories with Recent Comments