A drab industrial park near the Akron Goodyear air dock is the birthplace of "Boris the Crusher."
Ratebeer.com recently ranked Boris the 17th best beer in the world. Boris also crushed the competition at last year's World Beer Cup.
The robust Russian stout is the barrel-aged brainchild of master brewer Fred Karm, University of Akron graduate and former electrical engineer who began brewing beer as a hobby.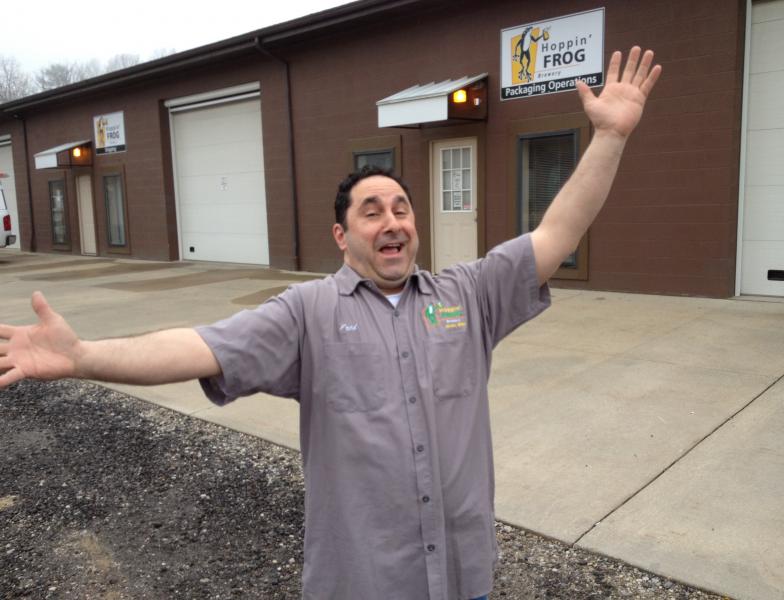 Karm says he was a sponge when he first set out to brew. "Read a lot of books, watched a lot of movies, read a lot of labels and tasted a lot of beers from around the world."
Strong, flavorful, and not for everybody
He created his first original beer style in 1994 and opened Hoppin' Frog Brewery in 2006.
Critics acclaim Karm's best-selling beer, rhapsodizing about Boris the Crusher's "big, toasty, oatmeal flavor" and its "complex coffee, caramel, and chocolate notes."
One critic says it's "like chocolate milk that makes you drunk."
At 9.4 percent alcohol, it's second in strength only to Doris the Destroyer, Fred Karm's Double Oatmeal Russian Imperial Stout. That one's 10.5 percent alcohol by volume.
Karm makes 28 different styles of beer and they're all pretty strong. He readily admits it's not for everyone.
"When I'm making a beer I'm not trying to make a mellow beer; I'm trying to make a flavorful beer. I'm trying to make a beer that makes a statement."
More grain, more flavor, and a tad of sediment
To make an even bigger statement, he ordered a massive grain handler "so we can make beers that have massive amounts of grain. What you get from that is more sugar, more flavor from the grain. It also ends up often times equating to more alcohol."
Karm refuses to filter his beer. "You get a little bit of sediment in your bottle, but it equates to tons more flavor. When you filter a beer it filters out the most delicate portions of the flavor and aroma."
Letting the yeast settle out of the beer takes twice as much time. Doing everything by hand also limits Hoppin' Frog's output.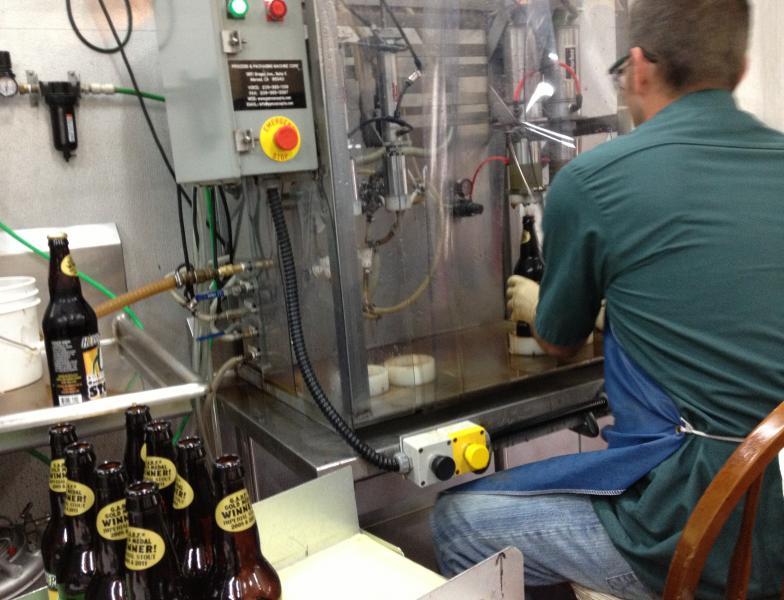 No plan to expand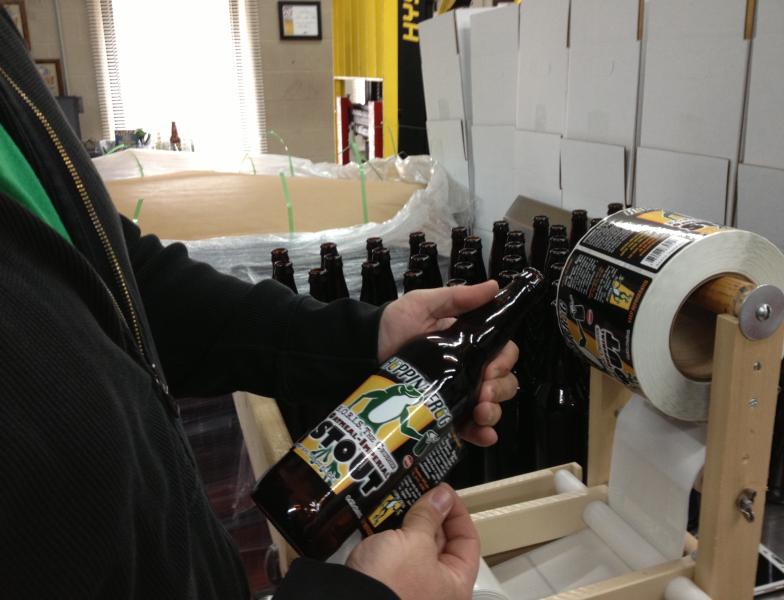 Karm sells his 22-ounce bomber bottles in 18 states and 12 countries. He's keeping the bottles big but his output small and plans to open a tasting room adjacent to the brewery this summer.
"We definitely don't want to change our system. I know a lot of breweries are expanding. We are in the mindset that we want to keep using the system that we have instead of buying a bigger brewing system -- but (to) have a retail environment where other people can come and enjoy them locally."
Currently, it's not always easy to find Hoppin' Frog beer.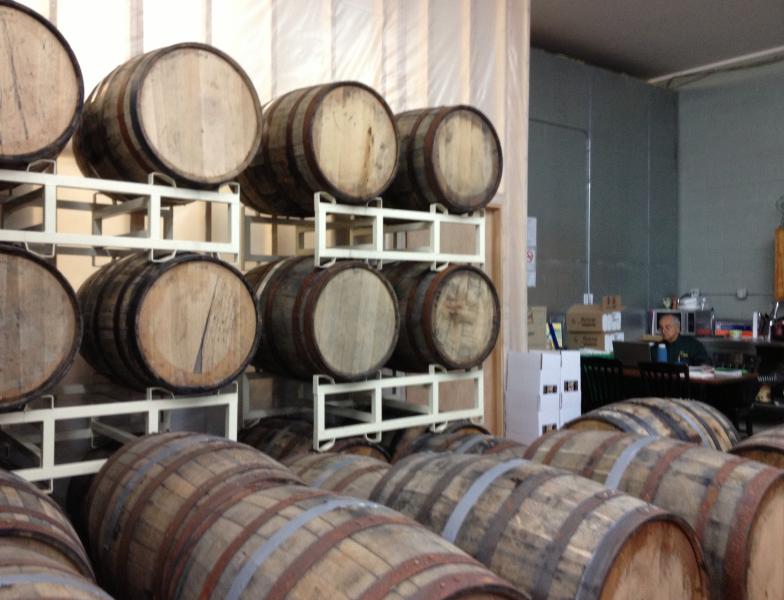 "We're a rare beer in a way," says Karm, "although we're right here. We sell around the world and we can't make much beer, so it gets spread thinly in the areas where it is sold."
You'll pay about $10 a bottle for Hoppin' Frog and new styles roll out almost monthly.
Turbo Shandy Citrus Ale came out in March and Gangster Frog IPA, one of the brewery's six India Pale Ales was introduced in April.
Flavorful food, too, for responsible drinking
Fred Karm's working with the Zydeco Bistro food truck guys to develop eight to 10 signature items for the tasting room.
"With our beer being stronger and having a lot of food, people have more of a reason to stay and they won't leave intoxicated because the last thing you want is that."
The first thing he wants is connection to the community.
"The reason why I brewed to begin with was to share my beer with friends and family. So it'll be great to be able to have a retail environment where I can have them stop in whenever they can and have a beer and say, 'Hi.'"
Historical significance
Karm's passion for beer-making gets stronger the more he brews. He sees malted beverages as the mother's milk of civilization.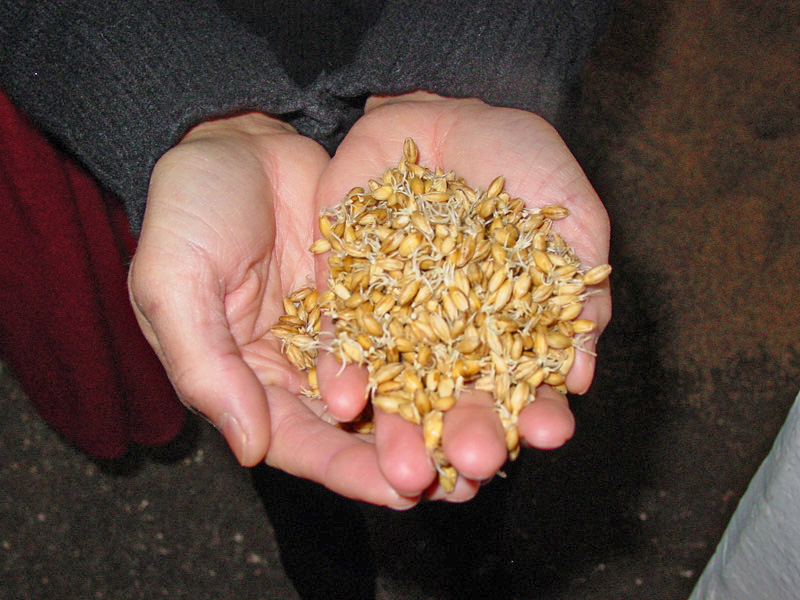 "In Mesopotamia, the women of the tribe would actually chew up grain and spit it into a bowl. That would ferment and then the guys, when they get done hunting, they would come back and partake in whatever it is that was."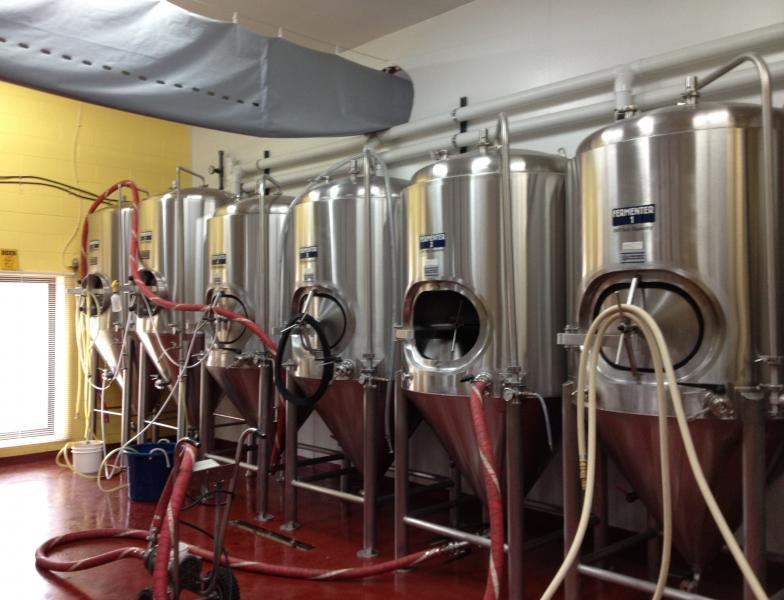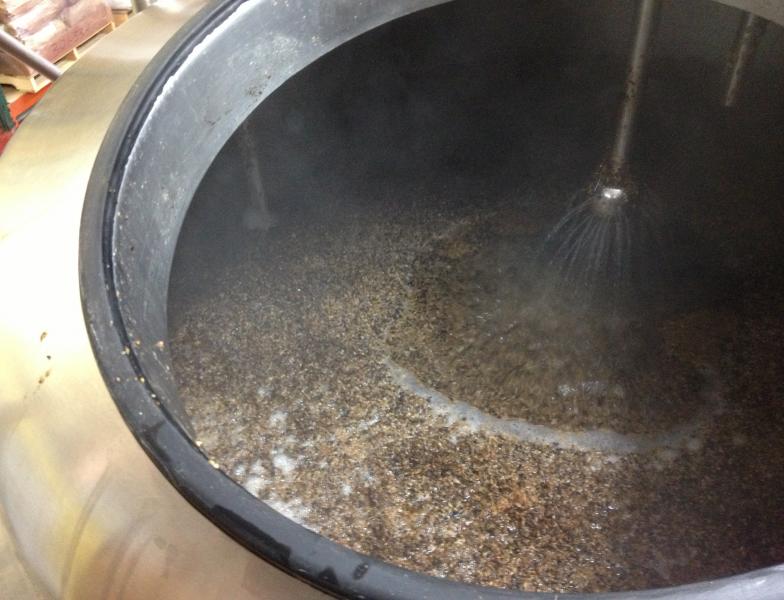 America might not have been discovered, says Karm, if it weren't for beer. He knows that from reading Christopher Columbus's captain's log.
"It states in there that, 'We must go ashore in search of provisions, especially beer.' They knew it was a way to make the water sanitary."
And Karm sees a health benefit from the rise of the craft beer industry in the last 20 years. Karm's brews are two to three times stronger than Miller, Pabst, or Bud.
"So you end up having one beer in an evening and being satisfied and not as filled up. The craft beers are more like wine in a way, where you can have one or two beers in an evening instead of two or three."
Nationwide toast planned
Hoppin' Frog is one of the nation's 2,300 small and independent breweries. But as of last year, U.S. craft brewers made only 10 percent of the beer sold in this country.
But they know how to throw a party. For the eighth consecutive year, the Craft Beer Brewer's Association invites one and all to a nationwide toast at 8 p.m. this Thursday, May 16. The nearest local celebration will be at Wolfey's Bistro and Pub in Elyria.
And for fans of both the popular and specialty brews, Cleveland Beer Week lifts the pop-top October 18.
And that's this week's Quick Bite. Next week we meet a group of community activists growing hope for healthier food choices.