Loading...


Education



Tuesday, April 30, 2013




Strongsville teachers and students are back in their classrooms




Parents and students glad the eight-week strike is over


by WKSU's KEVIN NIEDERMIER


Reporter
Kevin Niedermier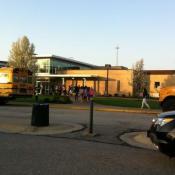 Strongsville High School students filing into the building this morning to reunite with teachers who had been on the picket line for 8 weeks.
Courtesy of Kevin Niedermier
Download (WKSU Only)
In The Region:
After two months on the picket line, Strongsville teachers returned to their classrooms this morning. The school district hired substitute teachers during the often bitter strike.

Joe Stopec just dropped off his kids, a senior and a freshman at Strongsville High School. He says his kids went to class during the strike, but they didn't want to and they didn't learn much. He's glad the teachers are back.
"The strike impacted the kids and the community drastically," he said. "I think both sides were right and both sides were wrong. But, in the end, the kids won."
The eight-week strike ended last weekend with the teachers getting raises, but agreeing to pay more for health insurance. The school administration had argued it didn't have enough money to meet the teachers' original demands. The teachers say the administration was trying to break their union.
---
---
---
Stories with Recent Comments