Joe Eszterhas was 25 years old and Mike Roberts was 30 when the shootings occurred at Kent State.

Roberts recalls that after a weekend of protests at the school, the Plain Dealer was playing catch-up. It had not been covering the protests at the campus on three days leading up to the shooting.
"I'm in the Washington Bureau at the time that this takes place and I'm home for a week. Joe Eszterhas and I are on our way to lunch and we get sent down to Kent. The place is a chaos. We get there shortly after the shooting; it's totally chaotic."
Roberts was hoping to get people to explain what happened quickly before they begin to clam up. Eszterhas began interviewing students and Roberts began interviewing guardsmen.
"I got to the guard within a half-hour of the shooting and the people I talked to were shaken."

Dorothy Fuldheim: 'Murderers'
Roberts was hoping the head of the guard, Gen. Robert Canterbury, would call a press conference. But then Cleveland broadcaster Dorothy Fuldheim arrived by helicopter.
"She goes up to Gen. Canterbury and said, 'General, your men are murderers; how do feel about that?' Well, when she said that, that was the end of any possibility of any discussion with the guard."
Students and guardsmen scattered after that week but Roberts and Eszterhas spent the next three months conducting interviews. One day they were sitting in a Kent beer joint when they noticed an older man who looked familiar. So Roberts approached him and asked his name.It was famous author James Michener.
"I came back and said 'Yeah, Joe, we got a little competition down the way here.'"
Who's to blame?
Eszterhas says Michener's book, "Kent State: What Happened and Why" unfairly blamed the students. Their own book found no easy answers.

It was a time when the country was torn into factions between races, between generations, and between opinions on the war. Roberts says at Kent State that weekend, students were naïve about the guard and guardsmen were disorganized and suspicious of the students.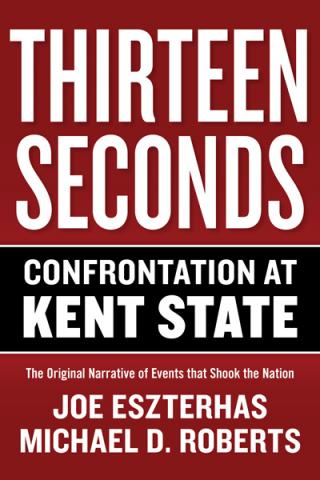 Most of the 25 guardsmen who fired their M-1 rifles that day said they fired into the air or into the ground. Only four admitted they shot at students. Roberts noted that one guardsman fired first, and that may have set off the volley.

"When he took that shot, even if it was a warning shot, most of the guardsman had their backs to the crowd. And when they heard the shot, they wheeled and fired."

Four students were killed, nine were wounded, and the shooting went on for 13 seconds.

Conspiracy theories
There have been a lot of conspiracy theories about the shootings in the last 43 years, but Mike Roberts and Joe Eszterhas say their 1970 book still stands up. "Thirteen Seconds: Confrontation at Kent State" has just been reissued.

Details on the shootings at Kent State can be found at Kent State 1970.

NOTE: Joe Eszterhas was not available for this story, but he wrote this in the preface of the new edition: "Nearly a half century after its publication, I'm still proud of the fact that 'Thirteen Seconds' dared to speak the unspeakable: That Richard Nixon, allied with Ohio Gov. James Rhodes and Ohio National Guard Director Sylvester Del Corso, helped cause the deaths of four innocent young people. ... One of the great lessons of the horror at Kent State is that inflammatory political rhetoric, divisive and polarizing propaganda, can lead to violence and death. I think it is worthwhile to keep that lesson in mind." — Joe Eszterhas, August 2012


Here's a list of events at Kent State to commemmorate the 43rd anniversary of the shooting.